Event Details
Frederick Health Recruitment Event
Categories:

Community Event, Frederick Health, Special Event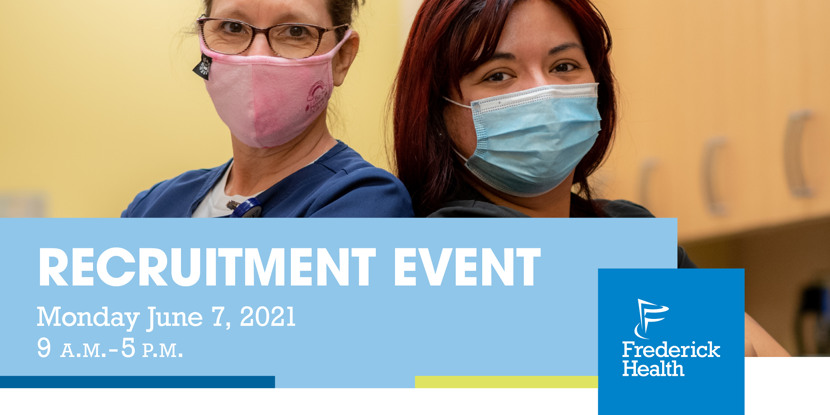 About This Event
Event Type:Frederick Health
Details:
To register for this event & schedule your appointment, please CLICK HERE.
Join our team and help us achieve the highest quality care for our patients and our community! We have earned numerous accreditations and recognition, including Great Place to Work® Certification, ANCC Magnet® Recognition, and certified membership in the MD Anderson Cancer Network®, a program of MD Anderson Cancer Center.
RSVP at FrederickHealth.org/Careers by June 4 to confirm attendance. On-site interviews will be conducted for select areas, and new graduates are encouraged to attend. COVID screening will be required upon arrival. Masks are required and we will be practicing physical distancing. We are an equal opportunity employer who values diversity.
Full-time, part time, and emergency relief positions are open in multiple areas, including:
CLINICAL POSITIONS: 9a.m.-12 noon
NURSING & NURSING ASSISTANT:
Med-Surg
Cardiac
Women's and Children's
Behavioral Health
Emergency Department
ICU
OR
Home Care
Hospice
CLINICAL:
Respiratory Care
Imaging/Radiology
Lab
Phlebotomy
Wound Care
Pharmacy
MEDICAL ASSISTANT: Various positions in our outpatient physician practices and COVID testing site.
LPN positions are available in our Home Care department and physician practices. Experienced RNs may be eligible for sign-on bonus.
NON-CLINICAL POSITIONS: 2-5 p.m.
Patient Scheduling
Medical Records
Coding
Billing
Security
Food & Nutrition Services
Environmental Health Services
Interpreters are available by advance request. Please call 240-566-4370 no later than Monday, June 1 to request an interpreter. ATENCIÓN: si habla español, tiene a su disposición servicios gratuitos de asistencia lingüística. Llame al 240-566-4370.  /  ATTENTION: si vous parlez français, des services d'aide linguistique vous sont proposés gratuitement. Appelez le 240-566-4370.
Registration
Price: Free
Registration Instructions:

To register for this event and schedule your appointment, please CLICK HERE.