A Family's Railroad Ties Bring Comfort
Category: Patient Stories
Posted On:
Written By:

Hospice of Frederick County
While a lot of people find a train's whistle to be a mournful sound, Timmy Bentz of Graceham, MD says hearing one always makes him smile.
That's because a train whistle reminds Timmy of his Dad, Charles W. Bentz, who was cared for by Hospice in the family's home until his death in 2012. A shared love of trains was a strong bond between father and son, and Timmy has many happy memories of riding the rails, reading train books and watching railroad videos with his late father. The two also amassed a large collection of train memorabilia together—much of which dates back to the time when Timmy's grandfather, Harry C. Groshon, worked for the Western Maryland Railroad.
Forty-seven-year-old Timmy, who has been developmentally disabled since birth, is well known and loved in the Thurmont area. At the Thurmont Weis Markets where he works, local families—especially those with children—enjoy chatting with him, as he always has a friendly greeting and a kind word. Timmy's sister, Laura Harbaugh, says that the care Hospice gave to her Dad and the family at the end of his life was helpful to all of them, but the emotional support that the social worker gave Timmy was especially meaningful. "We knew Dad's passing would leave a big hole in all our lives," she says.
"But we were all really concerned about Timmy. We hoped he could find a way to express his grief, since he sometimes has trouble finding the words he needs."
Several months after Charles died, Timmy did find a way to express his grief and honor his father's memory in a way that was uniquely his. With his entire family's help, Timmy converted an upstairs bedroom to a Memorial Room showcasing the love of trains he had shared with his late father.
Timmy smiles broadly when he talks about how his entire family came together to help him with his project. His niece and nephew, 5-year-old Trey and 3-year-old Chloe washed the walls, and his brother-in-law, Rodney, installed shelves and laid the hardwood floor Timmy had chosen "to look just like a train station."
His sisters painted and made curtains, the entire family working together until the Memorial Room looked exactly the way Timmy had envisioned. In the room, Timmy has put the miniature train layout depicting the town of Graceham that he and his father had worked on together since the 1990s—complete with:
post office
general store
town office the Bentz family home
and a tiny figurine of Timmy himself.
Their books and videos are organized neatly on the shelves, and Timmy has labelled the rest of the railroad memorabilia carefully using a computer program. When the tribute room was completed last August, Timmy and his family hosted a well-attended ribbon-cutting ceremony at the Bentz family home. Timmy offered his guests tours of the Memorial Room, and shared a scrapbook he had created using photos he took throughout the project.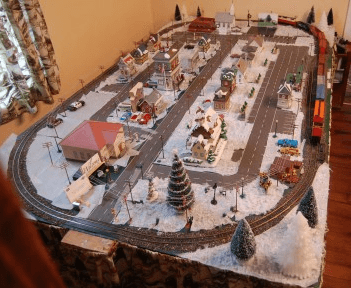 This scrapbook was later awarded first place in its category in the Thurmont Community Show.
"Me and Dad were like this," says Timmy, lacing the fingers of his hands tightly together. "I have a lot of friends, but he was probably my best one. I miss him a lot, but I'm glad I have our Train Room. When I go in there, I always feel quiet and peaceful, really relaxed.
And that makes my heart feel good."