A Life in Review
Category: Patient Stories
Posted On:
Written By:

Hospice of Frederick County
For 102 years, veteran George Hull has called Frederick home.
"I never expected to live this long," says the WWII veteran, who, after more than a century of hard work, true love, and a hero's courage, is spending his final days at home under hospice care.
Today, in the house he built with his own two hands nearly 60 years ago, Hull receives regular visits from a nurse, the local VA staff, hospice volunteers, and hospice social worker Deborah Pow.
Pow has been helping Hull conduct a "life review," a reminiscing process to help hospice patients like Hull look back upon their life and find peace and meaning. "I love to visit George because he tells such interesting stories," says Pow.
Hull graduated in 1930 during the height of the Great Depression, among one of the first gender integrated classes at Frederick High School—until 1922, Boys High School and Girls High School were separate. Hull was 24 when he first met his wife Gladys. "The first time I saw her, I said, 'Boy, I really fell,'" he says. "I remember her beauty and kindness the most. I loved her very, very much." They were married within two years, and settled down to start a family.
Their daughter, Vicki Propps, was only five weeks old when he was drafted in 1943. Within a year, Hull went from MetLife insurance salesman to rifleman, and landed on Omaha Beach in Normandy, France, after D-Day as an infantry replacement with the 110th Mountain Division. "To this day I don't know how I got up the beach. It's blank to me," he says. "I saw bomber after bomber going over, towing gliders carrying men and equipment in them."
He spent 17 months in France, first as a runner to deliver messages. "They didn't have equipment to deliver them, so they put me as a runner. I passed out a couple times running, and I heard somebody call it battle fatigue. The next thing I knew I was in a field hospital." After that, Hull helped to run a Prisoner of War camp.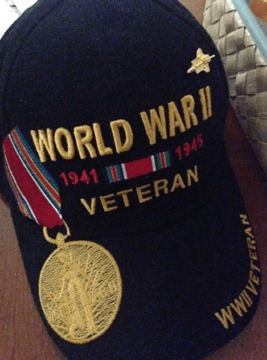 "After the war, I knew there was something wrong with me," Hull recalls. At the VA, he was treated for PTSD, and even today staff from the VA visit Hull in his home. Hull's daughter, Vicki, was two-and-a-half years old when he returned. He began planning a new home in Frederick, which he built in 1958 for just $13,000. And he picked up his job at MetLife, where he worked for the next 34 years.When he retired in 1975, he began volunteering for the Red Cross as a driver for the blood mobile. "I loved people and I loved to volunteer. I worked there for close to 20 years, volunteering," he says.
Gladys died 19 years ago after 56 years of marriage, but he is still surrounded by family, including his daughters, Vicki and Joni, and grandchildren. "I'm very proud of my family," he says.Hull is blind in his left eye and no longer drives. He still misses his wife, but says, "I made up my mind that I want to be happy as long as I am on this earth." "And that's hospice's goal, too," adds Pow.
As part of Hull's Life Review, Pow is learning more about his life and helping him answer the question "What was I here for?" She's learning about the big things, but the little things, too. Favorite actor? John Wayne. Favorite TV programs? Hallmark Channel movies and "Walker Texas Ranger." Favorite Restaurants? China Garden and Shamrock in Thurmont.
"Whatever the patient wants, that's what we respect and work toward," says Pow. "We keep him where he wants to be." Right there, in the house he built.