Have You Had the Conversation?
Posted On:
Written By:

Kelsey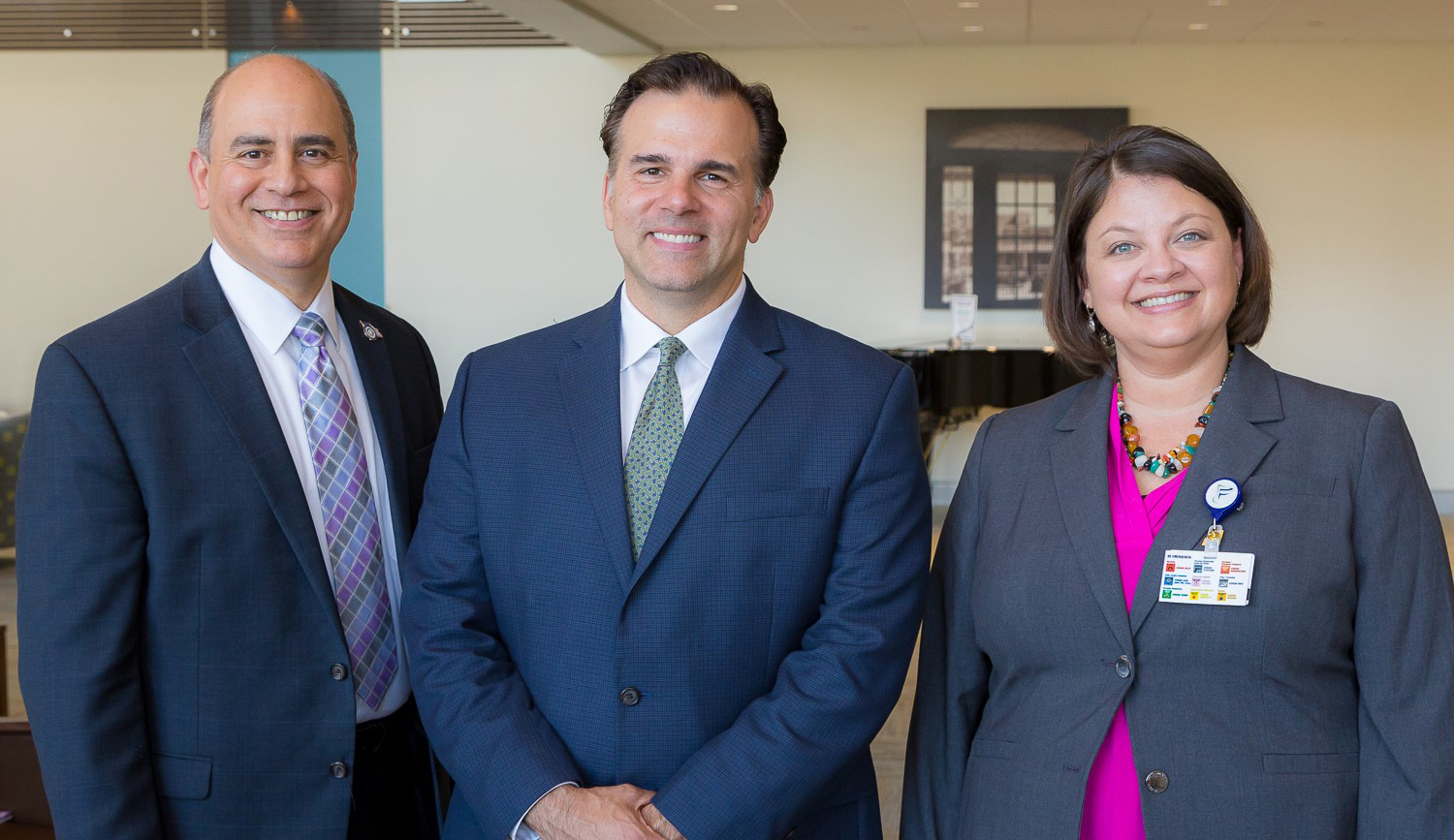 Hospice of Frederick County's Executive Director Carlos Graveran (left) and Medical Director Dr. Mary McDonald (right) welcomed nationally recognized patient rights advocate Dr. Angelo Volandes to Frederick for a special presentation on end-of-life issues
Dr. Angelo Volandes has a simple message for those who have not spelled out their wishes for their end-of-life care: If you don't tell your family and your doctors what you desire, the medical community will decide for you. Is that what you want?
Dr. Volandes practices internal medicine at Massachusetts General Hospital in Boston and is a noted author, lecturer and patient rights advocate. His book, "The Conversation: A Revolutionary Plan for End-of-Life Care," encourages families to talk about how they want to live at the end of their lives.
When patients fail to tell their loved ones what they want, whether that be every measure possible or only comfort care, "a lot of what will happen to you will be determined by my pen or the click of my mouse," he said.
But Dr. Volandes stresses that is not the way it should be. "Despite all the emphasis on patient-centered care, in those cases (when patients don't indicate what they want) the doctor makes the decision," he said. "It is time for patients to take back control of that decision."
Research indicates that more than 90 percent of all Americans want to die at home, surrounded by their families and loved ones. "Yet two-thirds of those over 65 will die in a healthcare setting," Dr. Volandes said.
The solution to preventing that scenario is simple. "Have the conversation," he said. "Talk to your loved ones and then talk to your medical team and make sure they know your wishes. Because if you don't tell us, you may get what you don't want."
In a presentation that was equal parts humorous and pointed, Dr. Volandes said that people need to think of "The Conversation" as not about discussing death, but about "talking about a good life and what is possible."
The solution to receiving unwanted, costly care lies in making sure your wishes are clearly expressed, understood, and documented. As the main character discovered, in the one-act play "Dusk" that came before Dr. Volandes' presentation, making those decisions is a gift to yourself and your loved ones.
Some patients may indicate they want every measure available to stave off death, perhaps because they have something they truly want to live to see, such as a grandchild's wedding. Others may indicate that quality—not quantity—of life is the ultimate goal. There is no "right" or "wrong" answer. The only bad answer is no answer at all. "Otherwise, life's final chapter is written by the healthcare system that doesn't always have the patient in mind," Dr. Volandes said.
The production of "Dusk," along with Dr. Volandes' presentation afterward, are part of Hospice of Frederick County's continuing efforts to support local families in their efforts to decide how they want to live when faced with a serious or terminal illness. "Our goal is not to steer people to Hospice," said Carlos Graveran, executive director of Hospice of Frederick County. "This is about our efforts to educate and support the community so they can make an informed decision in the future."
Hospice of Frederick County Offers Encore Production of "Dusk"
If you missed the November production of "Dusk," a one-act play that examines end-of-life care, catch encore performances and panel discussions on April 2, 2018 at Hood College and on April 30, 2018 at Mount St. Mary's University. Presented in collaboration with Maryland Ensemble Theater.
Monday, April 2, 2018 - Hood College Hodson Auditorium (located in the Rosenstock Building)
Monday, April 30, 2018 - Mount St. Mary's University (Knott Auditorium)
Showtime for both dates is 6-8 p.m. (Doors open at 5:30 p.m. with light refreshments to follow.)
This event is sponsored by Stauffer Funeral Homes and Home Care Assistance. This event is free and open to the public.
Register today for this free event by emailing communityevent@fmh.org or by calling 240-566-4055.