Improving Community Health through Better Dental Care-Now That's Something to Smile About!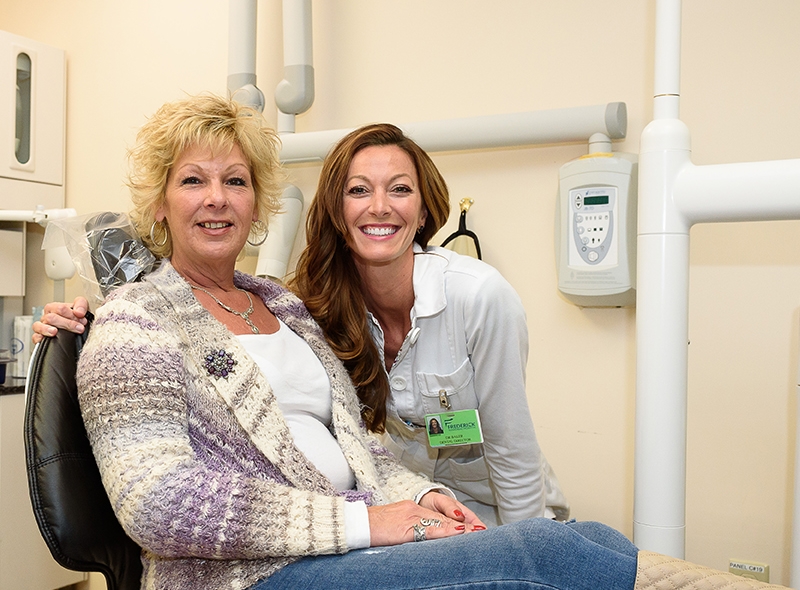 Michelle Ellison with Dr. Morgan Baker, DDS at the Monocacy Health Partners Dental Clinic
When Michelle Ellison's son and daughter were young, she was a single mom with a lot on her plate. She managed to get them what they needed, including good medical and dental care, but when it came to her personal health, the 50-year-old Frederick resident was not able to be as proactive.
"My insurance coverage was really minimal, and the dental work I needed was very extensive," she said. "I just could never find the time or the money to get myself the dental care I needed."
Missing regular cleanings and check-ups caused one set of problems for Michelle. Unfortunately, she also has an unusual condition that has complicated her dental health since she was a child. As her permanent teeth came in, they never caused her "baby teeth" to come out. Her permanent teeth didn't have enough room to grow in the gums and bone, developing instead behind her baby teeth.
Without regular dental care, Michelle's oral health just kept getting worse. She was in a lot of pain all the time, and was very self-conscious about her smile.
In 2016, she heard about the Monocacy Health Partners Dental Clinic. Through a collaboration with the University of Maryland School of Dentistry, the clinic provides emergency and preventive care to adult patients who have limited means to pay for dental services. Located at 516 Trail Avenue Suite B, across the street from Frederick Memorial Hospital, the clinic accepts Maryland Medicaid, vouchers from the Religious Coalition and the Seton Center, and self-pay patients on a sliding fee scale.
Monocacy Health Partners, an affiliate of Frederick Regional Health System, began exploring ways to provide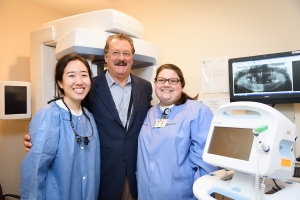 emergency dental services to residents with limited resources when a 2015 community health needs assessment identified dental care for the uninsured and underinsured as the top healthcare priority in Frederick County. And the fact that an average of 1,000 patients were being seen annually in the Frederick Health Emergency Department for dental emergencies further reinforced the need.
"When someone would come to the Frederick Health Emergency Department with a dental emergency like an abscess or an infection, the staff could only treat their symptoms and prescribe an antibiotic," said hospital Senior Vice President Jim Williams. "But they were not able to take care of the underlying issue, so patients had to be referred out to private community dentists and safety-net providers like Mission of Mercy."
The Dental Clinic opened in June of 2016, initially providing emergency and medically-necessary care only to Frederick residents over the age of 18. During its first year of operations, the clinic's staff performed 786 extractions, 173 fillings, and fitted 43 patients for dentures. This acute care was provided by tenured University of Maryland dental students under the supervision of local dentists who volunteered their time. Services provided at the clinic reduced the number of dental-related visits to the Frederick Health Emergency Department by 46%.
Less than a year after the clinic opened, services were expanded to include preventive care. In January of 2017, the clinic began providing cleanings and dentures in addition to acute dental care.
According to the clinic's full-time dentist Dr. Morgan Baker, DDS, many patients' care has extended beyond the dental chair. "Through our detailed assessments, we have been able to identify other health conditions in some patients which need further care and attention," she said. "In these cases, we have been able to refer them to primary care settings so they can learn how to manage these diseases before they become more serious."
Michele Ellison was one of the 629 patients treated at the dental clinic during its first year of service, and she couldn't be more pleased that the Frederick community now has an affordable resource for dental care. According to Michele, the staff is making steady progress toward correcting what she calls "25 years of neglect."
"With every appointment, I can see progress toward correcting my serious dental problems," she says. "I appreciate not only the quality of care I receive but the respectful, kind way I'm treated. I don't dread coming here, and for the first time in many years, I am not in constant pain. I even feel like smiling again!"
Monocacy Health Partners Dental Clinic performs extractions, fillings, denture fittings, and abscess care by appointment only. Call 240-566-7005 for more information or click here.