The Closest Place To Home
Category: Patient Stories
Posted On:
Written By:

Hospice of Frederick County
Since Kline Hospice House opened its doors in 2002, the beautiful home and its caring staff have earned the gratitude and praise of many area families.
"Kline House met every need we had." Pepper Delauter's father, Stanley Gaver, was fearful that he would spend the end of his life in a nursing home. "Because of Kline House, this was something we didn't have to pursue," Pepper says "Dad always loved to joke and kid around, and he was able to do just that to the very end only because he was so comfortable and at peace with being at such a beautiful place," she continues. He was thrilled that his dog Sadie was allowed to visit, and he enjoyed reconnecting with old friends and making new friends with Kline House staff and volunteers.
"Kline House met every need we had," Pepper reflects. As the end of Stanley's life drew near, Pepper and other family members spent the night at Kline House. "I know it not only comforted us being with him, but he was comforted as well, knowing we were there."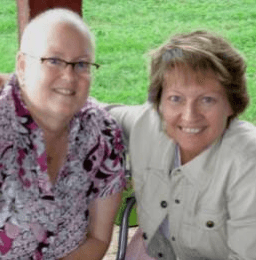 "This place is a jewel…" "No one ever wants to plan on using a hospice facility—but when the need is there, I can't imagine being without Kline House," says John McCarthy. "This place is a jewel for Frederick County residents." The death of his wife Sally would have been much more difficult for him and his 10-year-old son to deal with, had it not been for Kline House, John explains. "No matter how much I could have prepared our home, I don't believe that I would have been able to respond to every situation that occurred. Kline House staff and volunteers were always ready to respond—not only quickly but professionally."
Sally, who had recently completed her bachelor's of science degree in nursing, was thrilled to have wireless internet access at Kline House. A former colleague at Frederick Health, where Sally worked for nearly 30 years, provided a laptop so Sally could continue working on a project. "The thoughtfulness of the IT division of Frederick Health contributed to Sally's quality of life in ways I'll never be able to explain, but will remember forever," John says.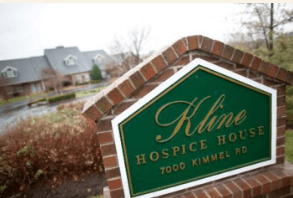 "We were family, not caregivers." After years of providing care for Hospice patients, Wanda Haslup was able to welcome her own grandmother, Lydia Frock, to Kline House.
"Fortunately, Kline House had an empty bed when it was time for her discharge from the hospital," Wanda recalls. "Family members were able to continue working without worry—and we could go home at night, knowing she was well provided for. We were able to be family, not caregivers."
Wanda appreciated the opportunity to step away from her role as nurse to be the granddaughter her grandmother needed. "It was both a privilege and an honor to spend the last week of her life by her bedside without the worry of how her needs were going to be met," Wanda says. She and her grandmother enjoyed sitting on the Kline House deck in the crisp fall air. "She looked out over the fields and said, 'It's not exactly home but it's close enough.'"