2018 Indirect Care Nurse of the Year - Sharon Chilton
Posted On:
Written By:

Kelsey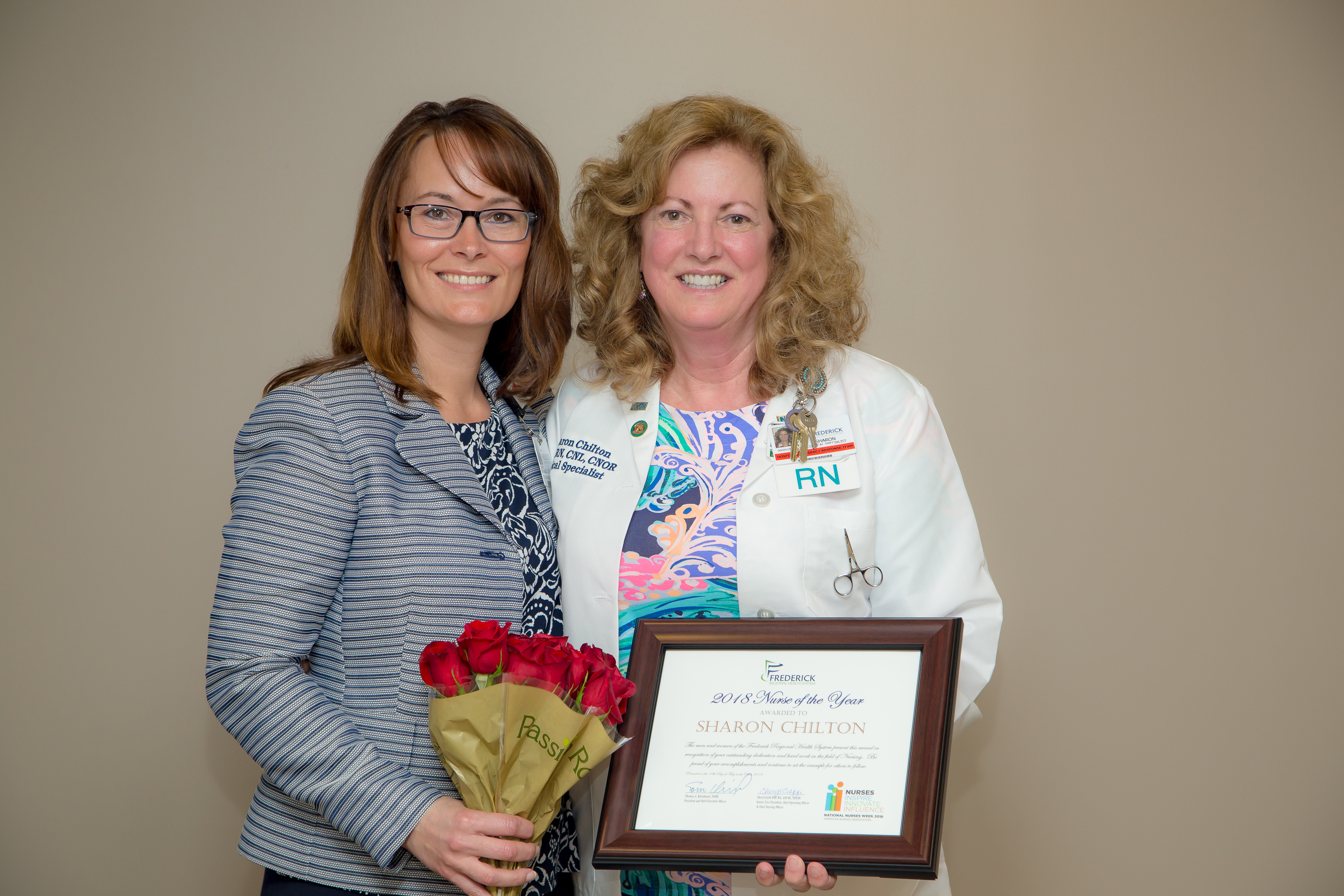 The award for 2018 Indirect Care Nurse of the Year goes to Sharon Chilton, OR Clinical Nurse Specialist and Nursing Professional Development!
Sharon was nominated by many of her department peers, with colleagues writing, "Sharon is a true go-getter. Regardless of the uncertainty or barriers, she will lead with integrity, professionalism and excellence. She is the go-to person when it comes to the safety of patient and staff members."
"Sharon is the epitome of excellence, professionalism, and nursing leadership. She surpasses expectations when planning clinical experiences, teaching TeamSTEPPS, presenting at national conferences and as an integral member of the Frederick Health Special Pathogen Team."
"As a clinical expert, all units of the Perioperative Department rely on her expertise, opinion, and guidance. Sharon is fearlessly committed to the highest ethical standards, creating a culture of empathy, safety, and professionalism throughout the OR."
"As chair of the Safe Surgery Initiative Committee, Sharon uses her active listening skills to facilitate constructive discussions, allowing members to objectively analyze and identify opportunities for improvement. Sharon makes the Frederick Memorial Hospital team a better one for all or out patients. She embodies our mission of providing superb quality and superb service, all the time."
In total, 31 nurses received nominations for either Indirect Care or Direct Care Nurse of the Year. Sixteen members of the Nursing Professional Development and Education Council reviewed the nominations and used a grading system based on Frederick Regional Health System's R.E.S.P.E.C.T. values to determine the winners.
Congratulations, Sharon, and thank you for providing excellent leadership in nursing!