An Advocate & a Voice
Posted On:
Written By:

Kelsey
Chronic disease accounts for an estimated 80% of Maryland's current healthcare costs. So what exactly qualifies as a chronic disease?
"Think of a chronic disease as a condition that lasts a long time—at least three months or more," said Sara Littleton, Manager of Frederick Regional Health System's Care Transitions program. "These are the conditions that can't be prevented by vaccines or cured by medication, nor do they just disappear. They require regular monitoring and careful management. Examples of these types of conditions include diabetes, heart disease, chronic obstructive pulmonary disease (COPD), hypertension, obesity, asthma, and many more."
Frederick Regional Health System's Monocacy Health Partners CARE Clinic offers programs and services to help people with chronic diseases manage their conditions, improve their quality of life, reduce health complications, and minimize their need for emergency care. A local family graciously shared their experience with these services.
The Timpson Family
Mary Elizabeth Timpson was a hard worker. Over the years, her family recalls her working at the Peter Pan Inn and the housing department at Fort Detrick at the same time, while also doing other domestic work. She volunteered many hours a week as Auxiliary Commander of the Disabled American Veterans, Chapter No. 5, and served many years as secretary for Friends of Frederick, Inc. She was a faithful member of St. John's Catholic Church, which she attended regularly until her health no longer permitted. Her potato salad, greens, macaroni and cheese, and apple cakes were legendary among her family and church community, and she always made plenty to share.
"You might walk into 'Aunt Lizzy's' home hungry or empty-handed," said her daughter-in-law Sharon Timpson, "but she saw to it that you didn't leave that way."
As her congestive heart failure got progressively worse, Mary lost her appetite. Without food to help metabolize her many medications, she often felt weak and dizzy. Her lower legs and feet were often swollen, making it hard to walk.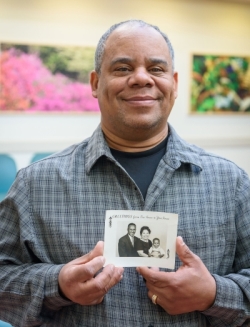 Mary Timpson's family was very attentive. Her only son, Eric, and his family lived next door and adjusted their schedules so that someone was with Mary as often as possible. Despite the family's careful attention, Mary's health began to decline, and Eric felt like he needed some help sorting out his mother's complex needs, including her medications.
One of Mary's home care nurses told Eric about Frederick Regional Health System's Monocacy Health Partners CARE Transitions team, and suggested he reach out to the program for some support. That first phone call was hard to make, but Eric says he instantly felt heard and understood by the team. And that was the beginning, says Eric, of feeling empowered to care for his mother in the same way she had always cared for him and her many siblings, grandchildren, nieces, and nephews.
"I could see her going downhill because she wasn't eating and her memory was failing," said Eric. "I had a feeling something was going on with her medications, but I needed a professional to help me sort all that out. Tricia really stepped up and became my voice. She helped me figure out my questions in advance so that we could really make the best use of the doctor's time."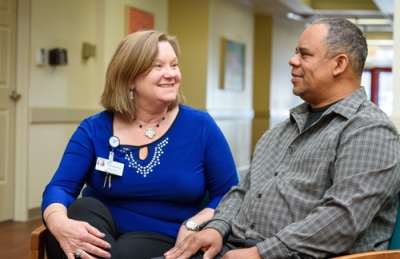 Eric worked closely with CARE Transitions pharmacist Tricia Cash to learn more about the prescriptions his mother was taking and how best to administer them. Tricia even went with Eric to several of Mary's doctors' appointments to discuss dosage amounts and side effects with the physician. Dietitian Emily Spear connected the family with Meals on Wheels to supplement the homemade food they brought Mary daily.
When Mary Timpson died in July, Eric says he and his family found some comfort in knowing that they had been able to care for her in the same way she had always cared for everyone else.
"My mother was a caregiver and a helper in every way," said Eric. "It meant a lot to me and my family to be able to make her comfortable and peaceful at home until her very last day on this earth. Tricia and Emily really helped us give her that gift at the end of her life."