Somerford House & Place, Frederick Donates $5,000 to Frederick Health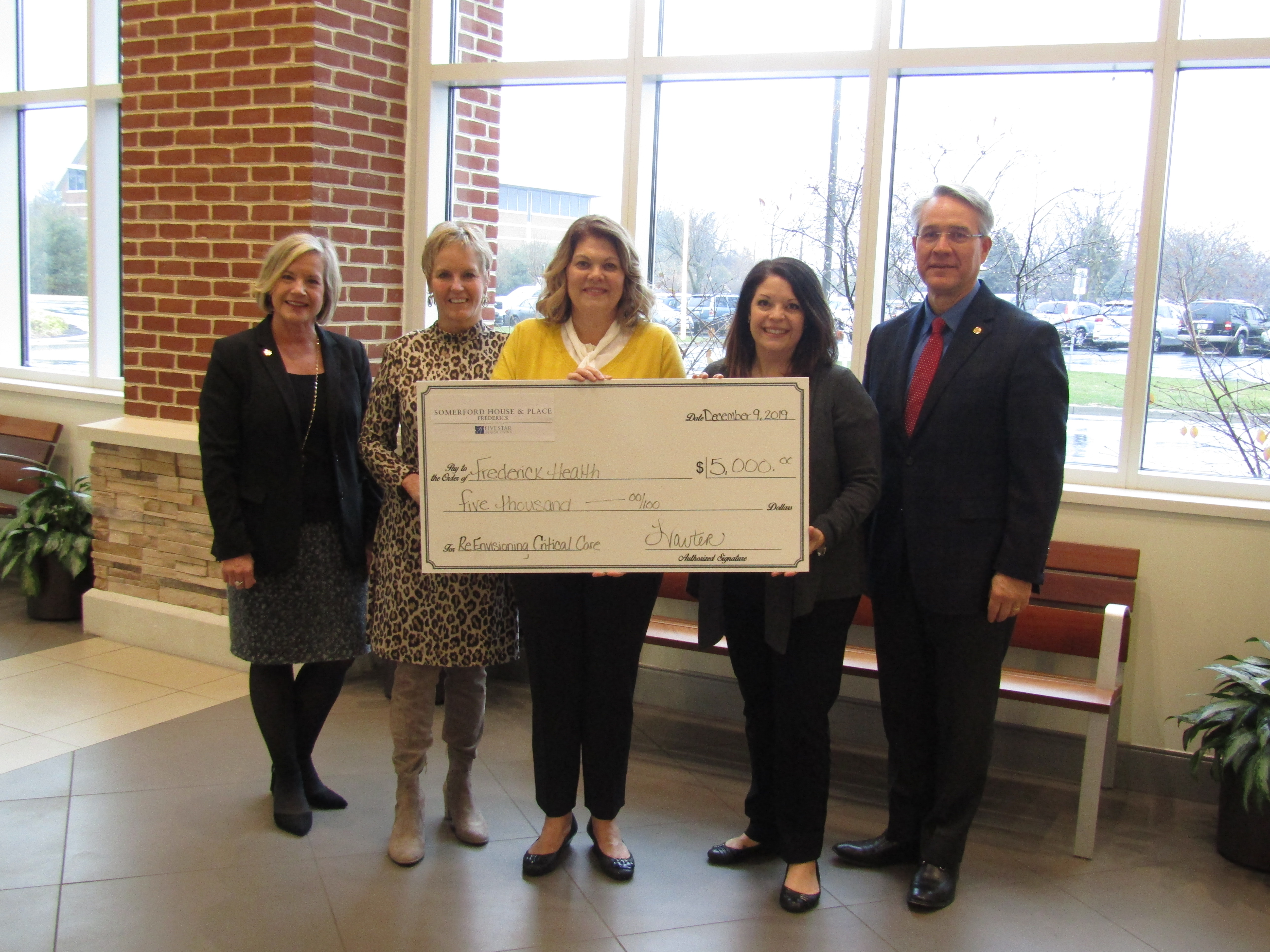 Check Presentation, featured from left to right: Frederick Health V.P. & Chief Development Officer Robin Rose, Frederick Health Development Council Chair Karlys Kline, Somerford House and Place, Frederick Community Relations Director Chris Laurich, Somerford House and Place, Frederick Executive Director Launi Vawter and Frederick Health President & CEO Tom Kleinhanzl
FREDERICK, MD – Recently, Somerford House and Place, Frederick joined the Frederick Health Corporate Honor Roll with a pledge of $5,000 to the ReEnvisioning Critical Care Campaign to support the renovation and expansion of the hospital's critical care service line.
"Somerford and Frederick Health have always had a very close relationship, so it was very natural to support them in this way. The majority of our residents are from Frederick County and know the hospital, so when we are in need of hospital-based services, we know we're partnering with community friends. It's a very symbiotic relationship and we are proud to be a part of this initiative," stated Somerford House and Place Community Relations Director Christine Laurich.
"We are thrilled to have Somerford House and Place join the Frederick Health family of donors. We both play important roles in serving the community's growing senior population. Somerford's support of the ReEnvisioning Critical Care Campaign will help ensure that high quality emergency and critical care services are available to seniors and every individual in our community," stated Frederick Health President & CEO Tom Kleinhanzl.
The Frederick Health Corporate Honor Roll was established 30 years ago to provide financial support for Frederick Health's strategic capital goals. The Corporate Honor Roll roster includes a diverse group of more than 90 local businesses, organizations and foundations dedicated to helping the hospital fulfill its commitment to serving the healthcare needs of our community.