Emjay Engineering & Construction, Inc. Donates $25,000 to Frederick Health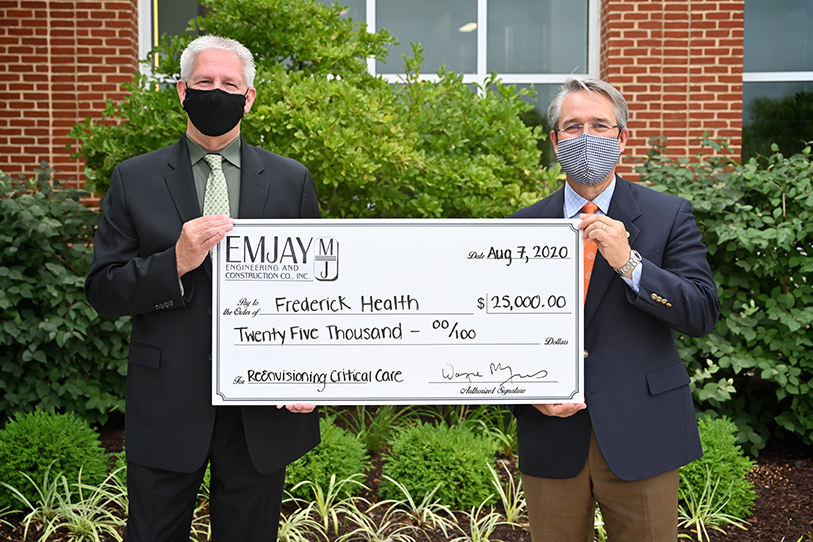 Pictured Left to Right: Emjay Executive Vice President & COO Wayne Myers and Frederick Health President & CEO Tom Kleinhanzl.
-----------------------------
DATE: August 25, 2020
For Immediate Release
FREDERICK, MD – Emjay Engineering and Construction, Inc. has pledged $25,000 to Frederick Health in support of the ReEnvisioning Critical Care Campaign to renovate and expand the hospital's Emergency Department, Intensive Care Unit and Interventional Cardiology Services. By virtue of this pledge, Emjay joins the Frederick Health Corporate Honor Roll.
"EMJAY Engineering and Construction has been supporting the healthcare industry for over 60 years. Frederick Health is a part of our family's life and community. Hippocrates said, 'Wherever the art of medicine is loved, there is also a love of humanity.' The heroes at Frederick Health are a shining example of this philosophy and we are pleased to provide our assistance," stated Emjay Executive Vice President & COO, Wayne Myers.
"It is always special when companies we do business with give back to the community through their support of the hospital. We are honored to welcome EMJAY to the Frederick Health donor family and commend them for their commitment to help ensure that residents of Frederick County have access to excellent emergency and critical care services," said Tom Kleinhanzl, President & CEO, Frederick Health.
The Frederick Health Corporate Honor Roll was established 30 years ago to provide financial support for Frederick Health's strategic capital goals. The Corporate Honor Roll roster includes a diverse group of nearly 90 local businesses, organizations, and foundations dedicated to helping the hospital meet the healthcare needs of Frederick's growing population.
# # #