Right at Home Donates $5,000 to Frederick Health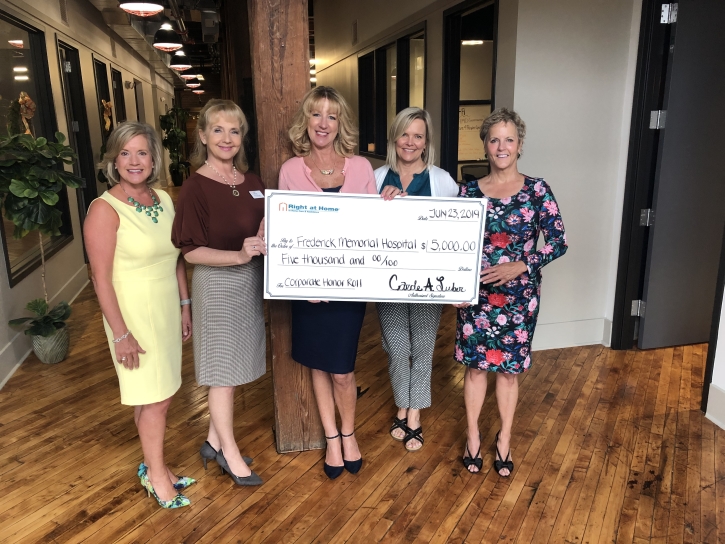 Featured (from left to right): Robin Rose, Vice President & Chief Development Officer, Frederick Health; Eileen McLaughlin, Community Liaison, Right at Home; Carole Luber, Owner & Vice President, Right at Home; Linda Luber, General Manager, Right at Home; and Karlys Kline, Frederick Health Development Council Chair
Recently, Right at Home presented Frederick Health with a pledge of $5,000 establishing them as one of the newest members of the Frederick Health Corporate Honor Roll.
"Since starting Right at Home in Frederick over 16 years ago, working with Frederick Health and their patients has been a mainstay of our business and an honor to care for people coming out of the hospital. It only seems fitting to give back to the hospital and invest in their ability to offer the best care for our community. We encourage other local growing businesses, like Right at Home, to consider the good fortune of having Frederick Health in our back yard and to practice good stewardship by financially supporting them," remarked Steve and Carole Luber, owners of Right at Home.
"Caring for the health and well-being of members of our community is a responsibility shared by many local businesses and organizations. We are grateful for the service that Right at Home provides and are honored to add them to our corporate donor family. We value Right at Home's sense of community and philanthropy," stated Tom Kleinhanzl, President & CEO, Frederick Health.
The Frederick Health Corporate Honor Roll exists to provide financial support for Frederick Health's strategic capital goals. The Corporate Honor Roll roster includes a diverse group of more than 90 local businesses, organizations and foundations dedicated to helping Frederick Health fulfill its commitment to serving the health care needs of our community.