Coca-Cola Donates $100,000 to Frederick Health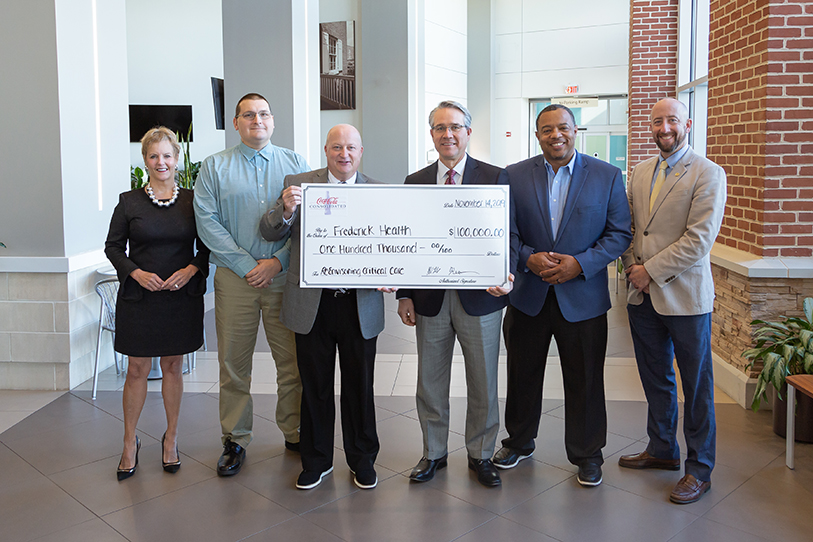 Featured fromleft to right: Frederick Health Development Council Chair Karlys Kline; Coca-Cola Bottling Company Consolidated Sales Representative Joe Carpenter; Coca-Cola Bottling Company Consolidated Director of Food Service Bill Keenan; Frederick Health President & CEO Tom Kleinhanzl; Coca-Cola Bottling Company Consolidated Area Sales Manager Derrick Smith; and Frederick Health Vice President Support Services Mike McLane
--------------------------
Coca-Cola Bottling Company Consolidated has been an active supporter of Frederick Health for more than 20 years. Most recently, they committed $100,000 to benefit the ReEnvisioning Critical Care campaign, Frederick Health's current capital project to support the renovation and expansion of the hospital's critical care areas.
"Our company is honored to be Maryland's local bottler," stated Coca-Cola Bottling Company Consolidated Director of Food Service Bill Keenan. "We're passionate about supporting and partnering with great organizations in our community like Frederick Health."
"Long-term relationships with donors like Coca-Cola are an important factor in Frederick Health's ability to continually grow and change to meet the healthcare needs of our community. Coca-Cola has consistently supported our numerous capital projects over the past 20 years and we are very grateful to have their continued generous support for this important project," stated Frederick Health President & CEO Tom Kleinhanzl.
The Frederick Health Corporate Honor Roll was established 30 years ago to provide financial support for Frederick Health's strategic capital goals. The Corporate Honor Roll roster includes a diverse group of nearly 90 local businesses, organizations and foundations dedicated to helping the hospital fulfill its commitment to serving the healthcare needs of our community.