Warner Service Donates $3,500 to Hurwitz Breast Cancer Fund
Posted On:
Written By:

Frederick Health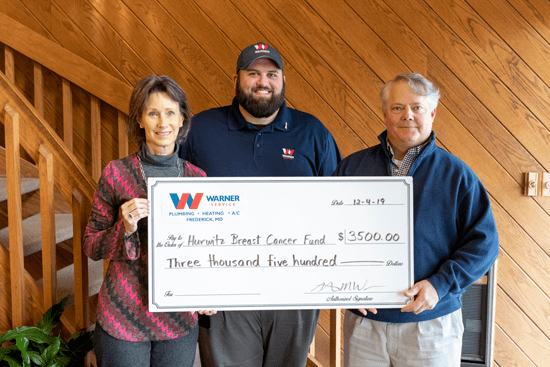 Check Presentation, featured from left to right: Hurwitz Breast Cancer Fund Co-Founder Patty Hurwitz, President of Warner Service Josh Via, and Owner of Warner Service Matt Warner.
--------------------------
FREDERICK, MD – Recently, Warner Service presented Hurwitz Breast Cancer Co-Founder Patty Hurwitz with a check for $3,500 to help the Hurwitz Breast Cancer Fund continue the fight against breast cancer in our community.
During the month of October, Warner Service donated $20.00 for each repair service ticket and installation that was completed.
"Breast cancer touches so many families in our community, it's the least we could do," stated Warner Service Owner Matt Warner.
"The Hurwitz Breast Cancer Fund is grateful for the generosity and support of Warner Service. Thanks to generous contributions we are able to continue our quest to help Frederick Health provide the most advanced technology for early detection and treatment of breast cancer to Frederick County," stated Hurwitz Breast Cancer Fund Co-Founder Patty Hurwitz.