Many Hands Make Light Work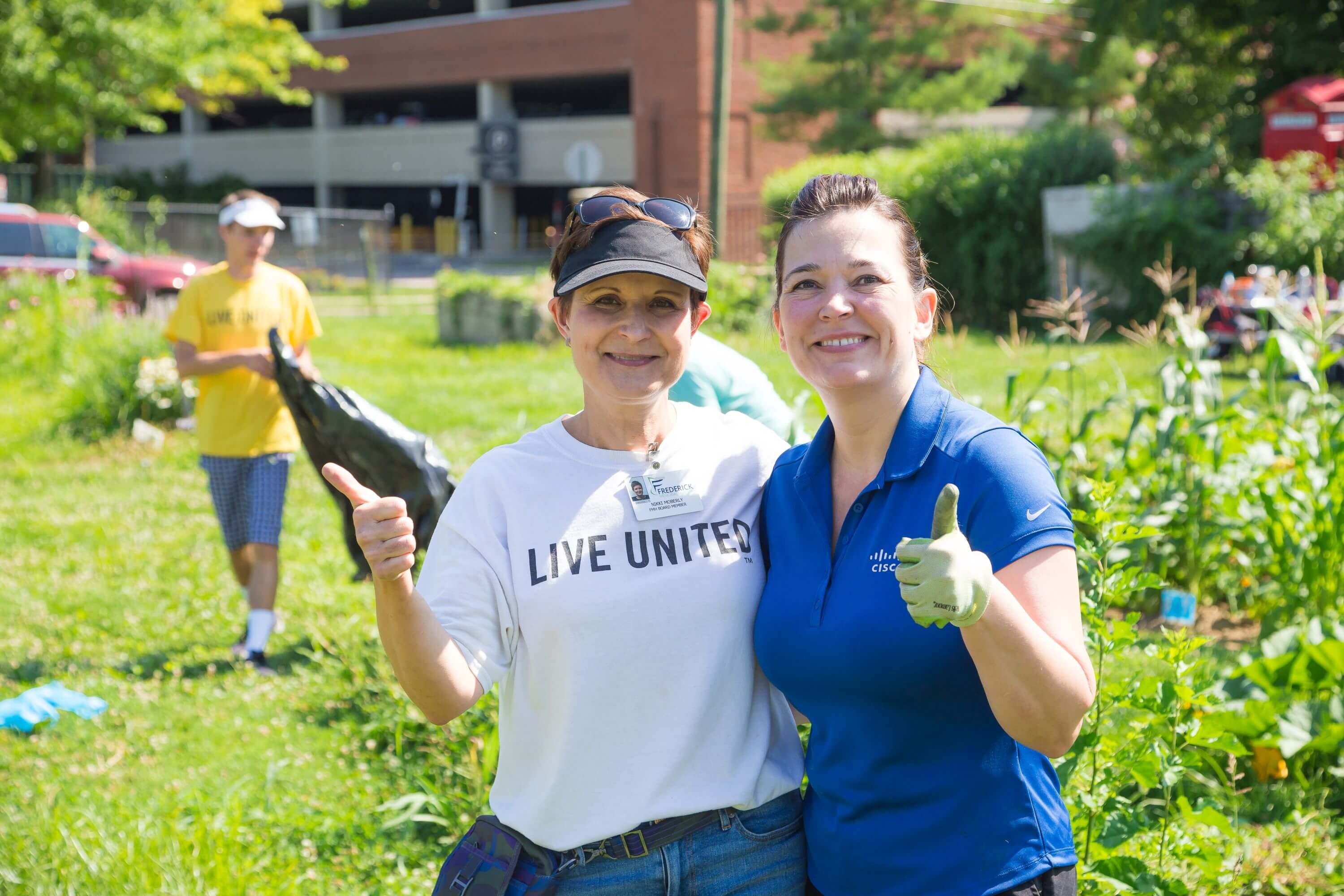 The HOOD/Frederick Health Resource Garden was buzzing with activity recently!
Earlier this summer, Nikki Moberly, a member of the Frederick Health Board of Directors and a Senior Manager at Cisco, met with Suzanne Jacobson, leader of the Frederick Health Green Team, to discuss including the HOOD/Frederick Health Resource Garden in the United Way Summer Serve Program.
Summer Serve provides local youth ages 12-17 with the opportunity to spend their summer volunteering, developing leadership skills, and making friends, all while supporting non-profit organizations throughout Frederick County.
Thanks to the generous support of Nikki and fellow volunteers Pat Hanberry, a member of the Frederick Health Board of Directors, and Joy Lewis, a colleague from Cisco, volunteers donated their time to weeding, harvesting, composting, and watering the resource garden on July 12. By the end of the day, the group had harvested 130 lbs. of produce, including potatoes, spinach, kale, beets, and squash.
Nikki, and her colleague, Joy Lewis, were able to join the United Way Summer Serve volunteers and provide them with leadership, guidance, and a helping hand through Cisco's Time2Give program. As a way to support their employees, as they support others, the Time2Give program offers Cisco employees five days off per year (on top of their regular PTO) for volunteering with a non-profit or school of their choice. In previous years, Cisco employees have donated well over 100,000 hours of their time to local non-profit organizations.
Maintaining the HOOD/Frederick Health Resource Garden is no easy task. During the 2017 harvest year, it took an impressive team of 76 volunteers, from both Hood College and Frederick Memorial Hospital, donating 385 hours of their time, to generate 1,500 pounds of produce, which was donated to local organizations including the Frederick Food Bank, Frederick Rescue Mission, Catoctin & Manor View and Taney Village Senior apartments, and Kline Hospice House.
Frederick Memorial Hospital would like to thank Nikki, Joy, Pat, and all of the volunteers participating in United Way Summer Serve, for donating their time and talents to the Frederick community!