Virtual Visit
Fast, easy access to healthcare is just a click away. $25 per visit
Schedule your virtual visit today!
In just an hour from the comfort of your own home, you can connect with a trusted Frederick Health provider online to be treated for common conditions. Anyone over the age of 18 can create an account or add adult dependents and minor children over the age of two to an account. There's no appointment needed and no waiting time. We diagnose and treat:
UPDATED! Coronavirus (COVID-19)
Concerned that you may have the disease or feel as though you are experiencing symptoms that could be related to COVID-19? Connect with a Frederick Health Medical Group provider.
Cold
Sinus infection
Influenza/flu
Hay fever/allergies
Vaginal yeast infection
Pink eye/conjunctivitis
Diaper rash
Eczema
Diarrhea
Heartburn
And more
How It Works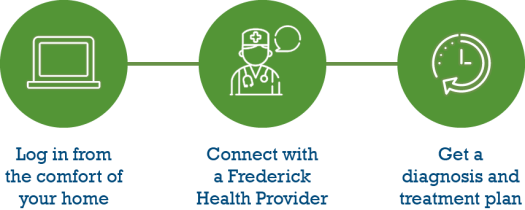 Want to learn more about Frederick Health Virtual Visit?
Check out these frequently asked questions.
All Frederick Health Services