Stroke Program Mission
The Stroke Program at Frederick Health Hospital applies the organizational values of quality, responsibility, stewardship, respect, dignity, empowerment, honesty, integrity, collaboration and teamwork to:
Deliver competent, appropriate and timely treatment to all patients with suspected stroke, across the entire continuum of care.
Educate patients, families, and the community about stroke prevention strategies, stroke response strategies, and challenges created by stroke.
Provide supportive services to stroke survivors, caregivers, families & friends on all levels of the human experience.
Promote continued improvement in stroke outcomes in the community we serve.
Learn how to "BE FAST" when recognizing the signs of a stroke. Call 911 immediately if you or someone you are with shows any signs of a stroke.

About the Stroke Program
Frederick Health has received the 2020 American Heart Association/American Stroke Association's Get With The Guidelines-Stroke Gold Plus Quality Achievement Award and is designated by the Maryland Institute of Emergency Medical Service Systems (MIEMSS) as a Primary Stroke Center.
The Acute Stroke Team at Frederick Health Hospital includes Emergency Department Physicians, Neurologist, Neurosurgeons, Radiologists, Nurses, and Pharmacists. This specially trained team is ready 24 hours a day, 7 days a week to quickly diagnose and treat acute stroke.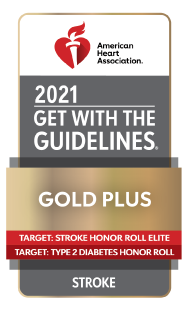 Frederick Health Hospital's Stroke Program offers state-of-the-art technology, tailored treatment protocols and specially trained staff, to provide the community with high quality stroke care. Following a stroke, patients and their families have many critical physical, social and emotional needs.
It is our goal to ensure that we provide the support needed to address these needs to promote the best outcomes after a stroke. Physicians direct the individualized care of stroke patients and are focused on working with patients and their families toward the best outcome. Our nursing staff has been specifically trained to assess and care for stroke patients who require unique medical care. The physical, occupational and speech therapists work closely with the stroke patients and their families to help patients reach their highest level of functionality after a stroke. Our social workers and case managers are qualified to assist patients and their families manage a variety of needs to ensure a smooth transition at discharge.
Click here to learn more about our Stroke Support Group