Pulmonary Rehab Program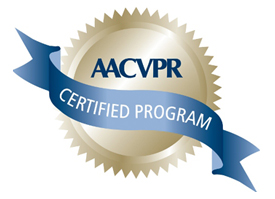 Our Pulmonary Rehabilitation combines medically monitored exercise with behavioral and educational programs designed to help patients with COPD (Chronic Obstructive Pulmonary Disease) and other chronic lung diseases. The primary goals of Pulmonary Rehabilitation are to help patients control symptoms, improve their activities of daily living and restore their ability to function independently.
For more information on the Pulmonary Rehab program, call 240-566-3229.
What is involved in Pulmonary Rehabilitation?
Exercise program customized to meet individual needs and limitations
Education specific to your disease and educational needs
Breathing retraining
Energy conservation
Stress management
What are the benefits of Pulmonary Rehabilitation?
Improved stamina
Increased muscle strength and endurance
Reduced respiratory symptoms such as dyspnea and fatigue
Increased knowledge about lung disease and management
Increased ability to perform tasks of daily living
Increased quality of life
Decreased depression and anxiety
Who benefits from Pulmonary Rehabilitation?
Patients with:
COPD
Recent Lung Surgery or Lung Transplant
Interstitial Lung Disease
Pulmonary Fibrosis
Other pulmonary conditions with disabling symptoms
About the Staff
Our registered nurses, degreed exercise physiologists and respiratory therapists provide patients with optimal care and guidance in learning how to live with their diseases and improving their quality of life.
Enrolling in Our Program
Talk to your physician about how Pulmonary Rehabilitation may help you. Call 240-566-3229 if you are interested in starting the program, want to schedule a tour, or need more information. Most insurance companies cover Pulmonary Rehabilitation services. We will verify your insurance prior to your enrollment to determine coverage.