Bone Health
What is Osteoporosis?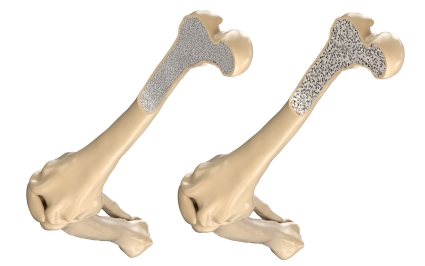 Osteoporosis means "porous bone" and is a bone disease that occurs when the body loses too much bone, makes too little bone, or both. As a result, bones become weak and may break from a fall or, in serious cases, from sneezing or minor bumps.
It has also been called a "silent" disease, where you may have bone loss for many years without any symptoms until you break (fracture) a bone. A fracture can happen in any bone of the body, but fractures are most common in the hip, wrist, and spine (vertebrae). Osteoporosis in the vertebrae can happen during day-to-day activities like climbing stairs, lifting objects, or bending forward and cause serious problems.
For information on the Joint Works Program, please call 240-566-3785.
Who is at risk?
About 54 million Americans have osteoporosis and low bone mass, placing them at increased risk for osteoporosis. It affects men and women of all races, but white and Asian women — especially older women who are past menopause — are at the highest risk.
The risk of osteoporosis is also higher in people who have certain medical problems, including:
Celiac disease
Inflammatory bowel disease
Kidney or liver disease
Cancer
Lupus
Multiple myeloma
Rheumatoid arthritis
Studies suggest that approximately one in two women and up to one in four men age 50 and older will break a bone due to osteoporosis. If you're 50 or older and have broken a bone, ask your doctor or healthcare provider about a bone density test.
What We Offer:
Evaluation and assessment of bone health, including lab testing, x-rays, and additional studies with personalized treatment recommendations
Fracture risk assessment and fall prevention
Easy appointments with a provider
Comprehensive team based approach to include physical therapy, medications, and patient education
Frederick Health Medical Group offers comprehensive bone health care, including treatment of osteoporosis and osteopenia. Click here to learn more.