Cardiac Rehabilitation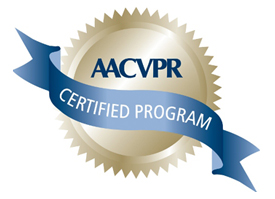 Frederick Health Cardiac Rehab is an outpatient hospital-based program specifically designed for patients who have experienced a recent cardiac event. Participants use individualized exercise plans to improve cardiovascular endurance, strength and flexibility. Our professional clinical exercise staff monitors each participant's blood pressure, heart rate and the heart's response to activity. In addition to exercise, educational lectures are offered with topics such as risk factor reduction for heart disease, eating for a healthier heart, the benefits of exercise and stress management.
Who is a Candidate for Cardiac Rehab?
If you have experienced any of the following cardiac events within the past year, you may be a candidate for cardiac rehabilitation:
Heart Attack
Coronary Artery Bypass Surgery
Angioplasty
Stable Angina
Heart Valve Repair/Replacement
Heart Failure
Most major insurance companies cover cardiac rehab services. Frederick Health will verify your insurance coverage prior to starting the program.
Benefits to Your Health:
Reduce your risk for heart disease
Discover how to exercise safely
Improve movement and flexibility
Gain muscle strength
Promote physical and psychological well-being
Meet others who share your common experiences and challenges
Learn the most up-to-date health information
Lose body fat
About the Staff
Our degreed exercise physiologists and registered nurses work collaboratively with your physician and the Frederick Health Support Team to respond to any crisis situation while you are in our facility. We are committed to providing you with personalized care in a safe, friendly and private setting. Our professional clinical exercise staff monitors your blood pressure, heart rate and your heart's response to activity.
Enrolling in Our Program
Please discuss this program with your physician. Call 240-566-3229 if you are interested in starting the program, want to schedule a tour, or need more information.
After Frederick Health Cardiac Rehab
ProMotion Fitness is a medically supervised exercise program appropriate for cardiac rehabilitation patients after they have completed their monitored exercise sessions and education. In addition to patients who have graduated from cardiac rehabilitation, this program caters to patients with diabetes, high blood pressure, abnormal cholesterol, heart disease, cancer, weight issues, arthritis, lung disease, circulatory problems and a variety of other health concerns. For more information about ProMotion Fitness, call 240-215-1470.
Please call 240-566-3229 for more information on Cardiac Rehab.
Stroke Program

Our award-winning team is ready 24/7 to Act FAST and provide critical care to treat stroke.

Learn More

ProMotion Fitness

Exercise is Medicine. Let us help you develop a fitness plan focused on your unique health needs.

Learn More