Getting the Most Out of Your Doctor's Visit
Studies show that patients who spend as little as 10 minutes organizing their thoughts before their doctor's appointments leave those appointments feeling more informed and more satisfied with their care. Another study reports that patients who ask questions during their visits typically see greater improvement in their health than those who do not ask questions.
With that said, it's clear that patients who view themselves as active participants in their own healthcare achieve better results. Which begs the question…if getting better results is so easy, then why do most people spend less time preparing for a doctor's visit than they do for a trip to the grocery store?
With the advent of the Patient-Centered Medical Home approach to primary care, healthcare is rapidly transforming and becoming more collaborative between providers and patients.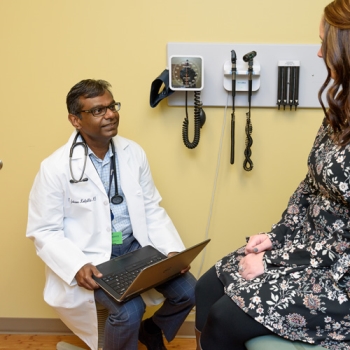 According to Dr. G. Johnson Koilpillai, Medical Director of Monocacy Health Partners Primary Care Services, practices like his, that follow the Patient-Centered Medical Home approach, encourage patients to be actively involved with their own healthcare at the level they choose.
"At Monocacy Health Partners, we recognize that patients and families are core members of the care team, and as such, we actively support them in becoming fully informed partners in establishing their care plans," said Dr. Koilpillai. "Preparing for their medical visits in advance is a really good way for patients to become active participants in their own healthcare, and to get the most out of their time with their provider."
Try following these simple steps prior to your next doctor's appointment:
Schedule wisely. When making your appointment, provide a few details about your concern so that the appropriate length of time is scheduled.
Make a list. Think about your concerns and what you'd like to discuss. Make some notes about how you want to describe your concerns, and put them in order of importance.
Bring your medications. Make a list of the prescriptions, vitamins, supplements, and over-the-counter medications you take regularly. If you don't have time to make a list, bring your medication bottles and we'll create a comprehensive medication list for you.
Keep a symptom diary. Your provider needs to know the progression of your concerns. What symptoms came first? When did they start? Did anything trigger them? Have additional symptoms developed after the initial ones? Keeping notes in real time will help you report on your situation accurately during your appointment.
Evaluate pain or discomfort. What kinds of sensations accompany a symptom? Aching, burning, dull or stabbing pain? Tingling, numbness, or annoying discomfort? How long does the pain or discomfort last? Be prepared to rate it on a scale of 1 (barely a problem) to 10 (feels like you should go to the hospital.)
Prepare a health history. Create a chronology of your current conditions, past surgeries, and previous illnesses. Include your family's health history, especially major diseases of first-degree relatives (parents and siblings.)
Bring glasses and hearing aids. Make sure you can see and hear. If you wear reading glasses, be sure to bring them to your appointment.
Address language barriers. If you anticipate a language barrier, let us know when scheduling your appointment so an interpreter can be used—free of charge.
Arrange for someone to go with you. If you are facing a challenging diagnosis or anticipate discussing various treatment options, bringing someone to serve as a "second set of ears" makes sense. Choose someone who is a good listener and who won't interrupt, dominate the visit, or ask too many of their own questions.
The following tips will help ensure that you make the most of the time you have with your providers:
Start with your top concerns. Addressing your most pressing concerns at the beginning of your visit will ensure the most productive appointment.
Tell your story. Refer to your symptom diary to describe your problem. What are your symptoms? When did they start? What makes them better or worse? Be as specific as possible.
Be honest. Share as frankly as you can, even if you are embarrassed or anxious about your health concerns.
Be thorough. Tell your provider about everything you're doing to address your health and wellness needs, including complementary or alternative therapies.
Ask questions. Ask if there are warning signs related to your condition that you should watch for. If you received a new prescription, do you understand what it is and why you are going to be taking it?
Take notes. Unless it's a routine visit, have a family member or friend with you to help you remember what was said. Ask this person to write things down so that you have a written record of what was discussed or done. You'll also leave every appointment with a copy of your patient plan, summarizing your visit.
Understand next steps. Don't leave your appointment if you're uncertain about your diagnosis or treatment plan. Find out when you should return for another visit, and clarify any next steps.
Care Coordinator Vanessa Flowers stresses the importance of being as honest and thorough as you can with your providers. "Telling your care team what you think they want to hear won't help us identify what the problem is, or—more importantly—help us help you," says Flowers. "It's important to communicate everything you are doing that could affect your health. For example, how much exercise are you getting? Are you taking laxatives or other over-the-counter drugs? Have you changed the way you're eating? Are you trying alternative therapies, including vitamins and supplements? Having a complete picture of your health makes it easier for your care team to connect the dots, arrive at a diagnosis and help you get on the path to feeling like yourself again."
Patient Coordinator Kaitlin Francella understands that the foundation of being a Patient-Centered Medical Home relies on your relationship with our providers. "We understand that when a provider retires or relocates to a new area it can be a stressful time for you as a patient. My role is to make that process as smooth as possible for you by extending continuity of care with a new provider of your choosing at Monocacy Health Partners. I will listen to your preference when selecting a new provider and help match you with the best one to suit your needs. This service is provided on behalf of all our patients because we value your partnership when choosing Monocacy Health Partners primary care."
Visiting your doctor doesn't have to be an unpleasant or stressful experience. Some thoughtful preparation in advance and following a few suggestions for staying on track during the visit will go a long way.
Monocacy Health Partners has six primary care locations spanning Frederick County to provide comprehensive, coordinated care to you. To make an appointment, call 240-215-6310.