Delaplaine Foundation, Inc. Grant Provides LifeNet System Upgrade for Frederick County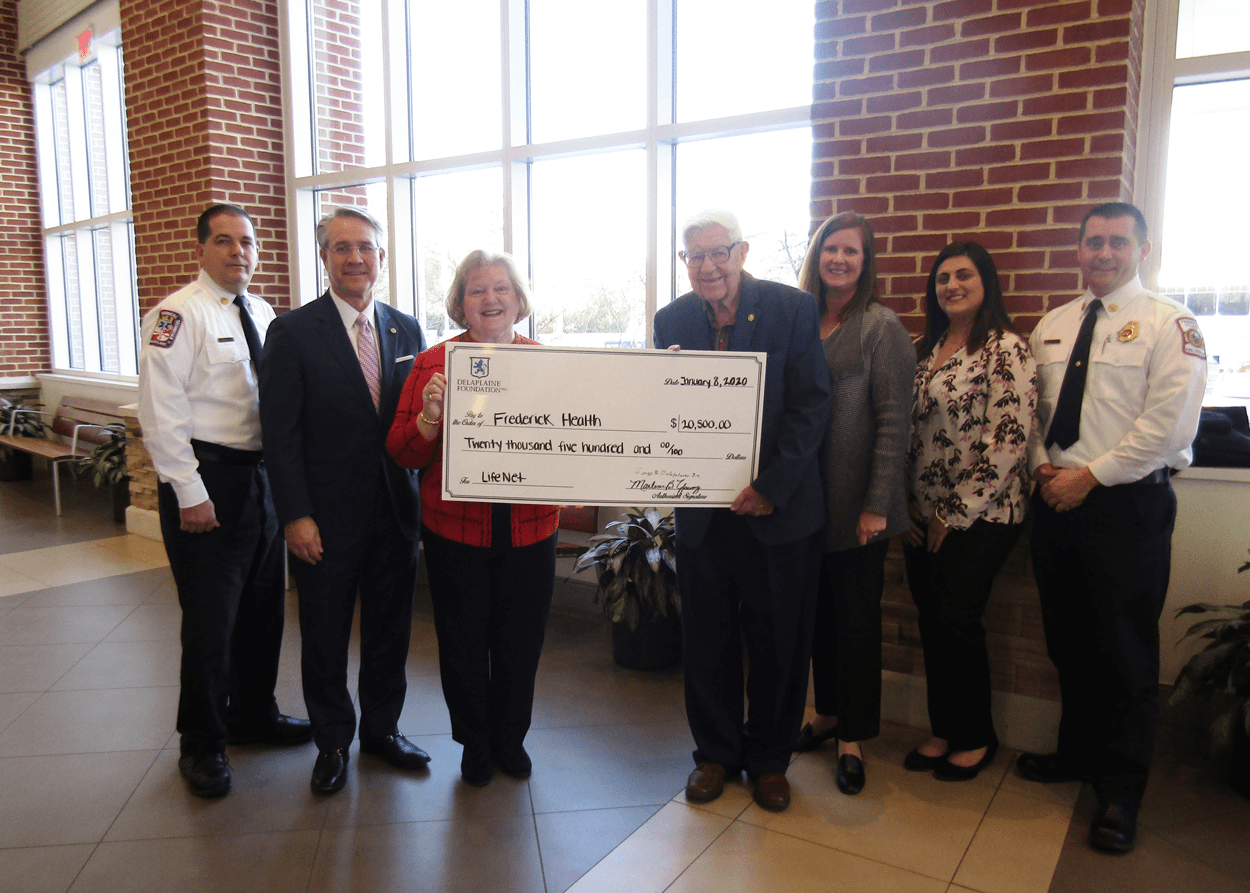 Featured from left to right: Frederick County Fire & Rescue Acting Deputy Chief Kenneth Poole, Frederick Health President & CEO Tom Kleinhanzl, Delaplaine Foundation President Marlene Young, Delaplaine Foundation Chairman George Delaplaine, Jr., Frederick Health Cardiac & Vascular Services Director Kristen Fletcher, Frederick Health Emergency Department Director Jennifer Kramer, and Frederick County Fire & Rescue EMS Battalion Chief Michael Cole
--------------------------
FREDERICK, MD – Delaplaine Foundation, Inc. has generously provided Frederick Health with a grant of $20,500 to make required upgrades to the LifeNet System utilized by Frederick Health Hospital and the Frederick County Division of Fire and Rescue (EMS) Services. Delaplaine Foundation provided initial funding for the purchase of the LifeNet System in 2007.
The LifeNet System enables EMS providers to digitally send an EKG from the field to Frederick Health Hospital where physicians review the EKG and, if needed, mobilize the code heart team to be ready and waiting for the patient upon arrival to the hospital's emergency department.
"Advancements in technology such as LifeNet continue to change and improve the way EMS responders deliver patient care each and every day. LifeNet allows our medical providers to provide real-time information to treating facilities about patients suffering from cardiac arrest. This greatly reduces the amount of time it takes to get patients from the incident scene into a Cath lab for lifesaving interventions, thereby increasing the probability of a full recovery. The Frederick County Division of Fire and Rescue Services is extremely grateful to Delaplaine Foundation and the George Delaplaine Family for their continued support of the Fire, Rescue and EMS services and the community as a whole. Their generosity has allowed for a LifeNet device in every Advanced Life Support medic unit throughout Frederick County," stated Frederick County Fire & Rescue Acting Deputy Chief Kenneth Poole.
"We greatly appreciate Delaplaine Foundation's commitment to providing life-saving technology to Frederick Health Hospital and the county's emergency responders. Not only did they support the initial purchase of the LifeNet System, they are continuing to ensure that this technology can operate at peak performance and provide maximum benefit," said Frederick Health Cardiac & Vascular Services Director Kristen Fletcher.
"Through the dedicated commitment of emergency rescue personnel and the top notch medical expertise at Frederick Health Hospital, Frederick County is assured top quality medical care. We believe that this upgrade is yet another example of Frederick Health being out in front of medical and technological advancements to ensure the very best in health care to the Frederick County region. This is a perfect fit with Delaplaine Foundation's mission to enrich communities, families and quality of life for all," said Delaplaine Foundation President Marlene B. Young.