Puppy Love: The Benefits of Therapy Dogs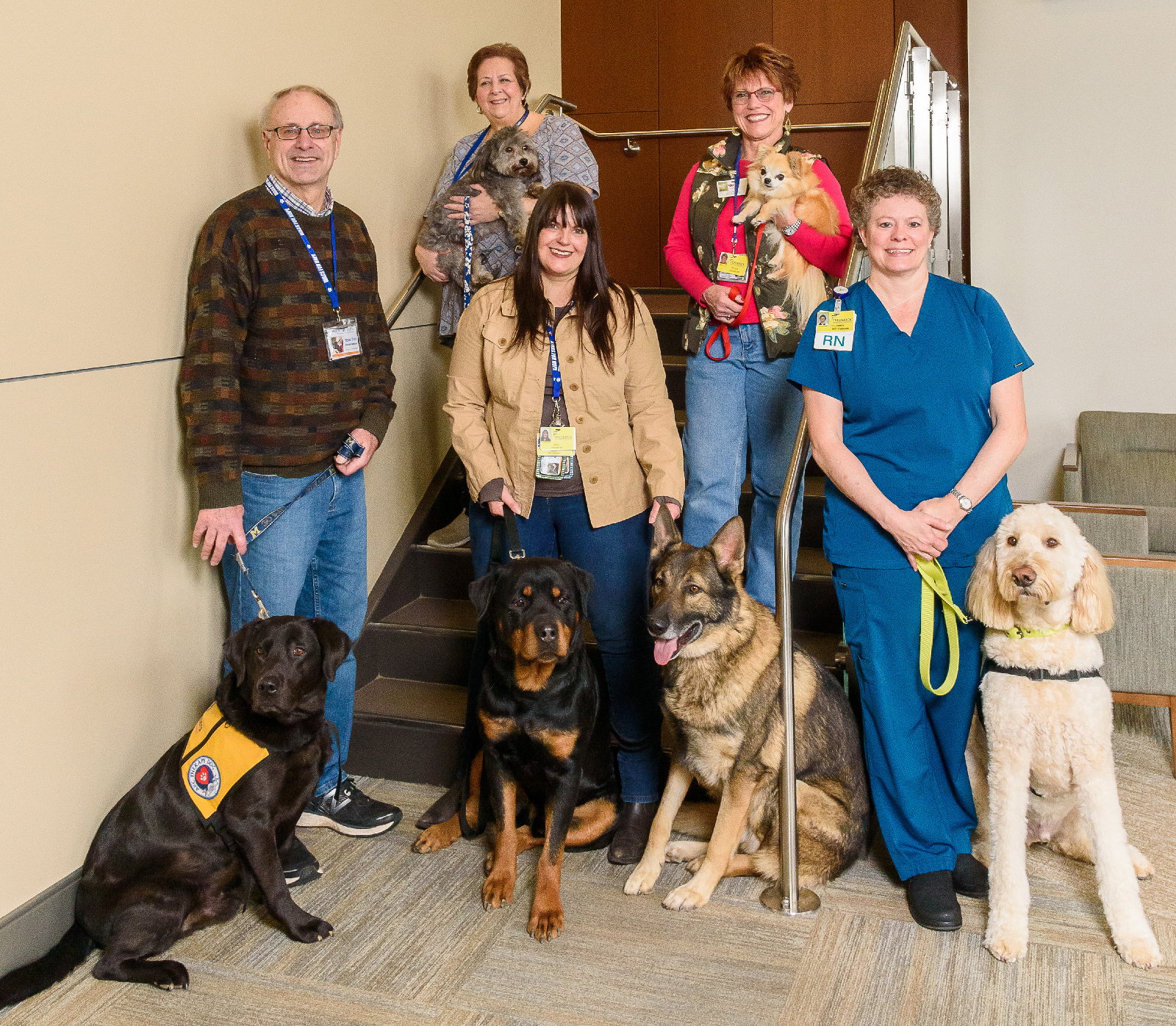 Even if you have great human relationships, there's something very special about the unconditional love and acceptance you feel from your pet.
If you're a pet owner, you already understand the benefits we get from positive interactions with animals. Now, a growing body of research is recognizing the impact the human-animal bond can have on individual and community health.
We're not sure why exactly, but we do know the benefits are there. Whether pet ownership simply motivates us to exercise, offers an antidote for loneliness, or just gives us loving companions to care for, a strong human-animal bond positively influences our health and well-being.
This is one reason Frederick Health works with Wags for Hope to offer a Therapy Dog program to its patients, families and staff.
Wags for Hope is a local organization of pet-owners who want to bring joy into the lives of others by sharing their pets. After careful evaluation and training, these teams are ready to visit hospitals, nursing homes, assisted living facilities, hospices, retirement homes, schools, libraries—even disaster shelters—to provide that non-judgmental, no-strings-attached affection to people who need it most.
"Since the hospital environment can be a demanding one, our therapy dogs are all trained at the highest level," says Dolly Sullivan, Director of Service Excellence at Frederick Health. "They also adhere to strict criteria involving immunizations and grooming. For example, every therapy dog must be bathed within 24 hours prior to coming in to visit."
Many Paws Make Light Work
Laura Schwartz and Trish Crum, co-presidents of Wags for Hope, contribute hundreds of hours a year managing the busy organization and remain active in many Wags of Hope initiatives, including the Frederick Health Therapy Dog program.
Volunteers David Greiger and 11-year-old Toby visit the hospital regularly. When an injury disqualified Toby from the seeing-eye dog training program, Greiger and his wife eagerly adopted him. After a new type of training, Toby embraced his new role as a therapy dog wholeheartedly. Known affectionately as "Team Toby," the two have been visiting patients and families at Frederick Health for more than four years.
Nurse Sylvia Nye is continuing to care for patients in retirement with the help of her long-haired chihuahua, Ginger Snap. "Ginger has a great temperament," says Sylvia. "We've never left a patient's room without getting a smile from someone." Though a lot bigger and heftier than Ginger, Rico the German Shepherd and Onyx the Rottweiler, handled by their owner Kristi Wood, are just as gentle-natured.
Dolly Sullivan's own dog, Bentley is one of the Wags for Hope-certified therapy dogs that visits Frederick Health regularly. According to Sullivan, the 6-year-old mix of a Golden Retriever and a Standard Poodle, was a natural therapy dog from the beginning.
Born Not Made
Dolly grew up on a dairy farm with lots of dogs and she's never had a dog quite like Bentley. She's taught him basic commands, but it's his temperament, she says, that's most extraordinary. "He has this innate intuition for providing affection and comfort to people who need it most," she says. "I've never seen anything like it. You can't teach that."
Dolly first learned about Wags for Hope when her children participated in a R.E.A.D. program sponsored by the organization at a summer camp. "This program places children with a therapy dog to practice reading aloud," explains Wags of Hope's co-president Laura Schwartz. "Reluctant or shy readers really enjoy reading to the dogs, who truly seem to "listen" carefully and never judge or correct. Kids love it, but more importantly, their reading skills improve."
Sensing a great opportunity for the mild-mannered puppy, Dolly reached out to Wags for Hope. Within a year, the two had passed their Level II training and were ready to volunteer at Frederick Health.
Bentley brings his extraordinary powers of intuition to his new vocation as a therapy dog. According to Dolly, when Bentley enters a patient's room, he will immediately go to the person with the greatest need. Sometimes that's the patient, but just as often, it's a family member. "We often hear later that the person he went to first had recently been crying or had been the most upset that day."
Can You Pet a Therapy Dog?
Sure you can! As long as you're sure the dog is a therapy dog. That's not always the case if it's a service dog.
There's a big difference between a therapy dog and a service dog. A therapy dog provides affection and comfort to people in hospitals, nursing homes, retirement communities, hospices, schools, libraries—even disaster shelters. They thrive on contact and love to be petted.
A service dog has been specially trained to assist someone who has mobility limitations, hearing loss or deafness, a visual impairment or a condition like autism or PTSD. They have only one handler and are not considered a pet. When they are working, they should not be petted or distracted so that they can maintain their focus on the tasks they are needed for.
When in doubt, ask permission.
Think Your Dog's a Natural?
Convinced your dog has what it takes to be a therapy dog? If they're naturally calm, friendly and affectionate to strangers, that's a good start. They also need to be well trained in basic obedience, and able to adapt to unfamiliar noises, places, smells, and equipment. You'll also need to make sure your dog has regular wellness check-ups and be bathed and well-groomed at the time of all visits.
Eventually, you'll need formal training from Wags of Hope or a similar organization, but you can start by socializing your puppy to new people, places, objects, and surfaces. Get a head start on commands they will need during therapy work like "look," "leave it," and behaviors like not jumping on people and loose leash walking.
"The Frederick Health Therapy Dog program is pleased to partner with Wags for Hope to provide our community with innovative, patient-and-family centered care," said Dolly Sullivan.