Gilbane Donates $60,000 to Frederick Health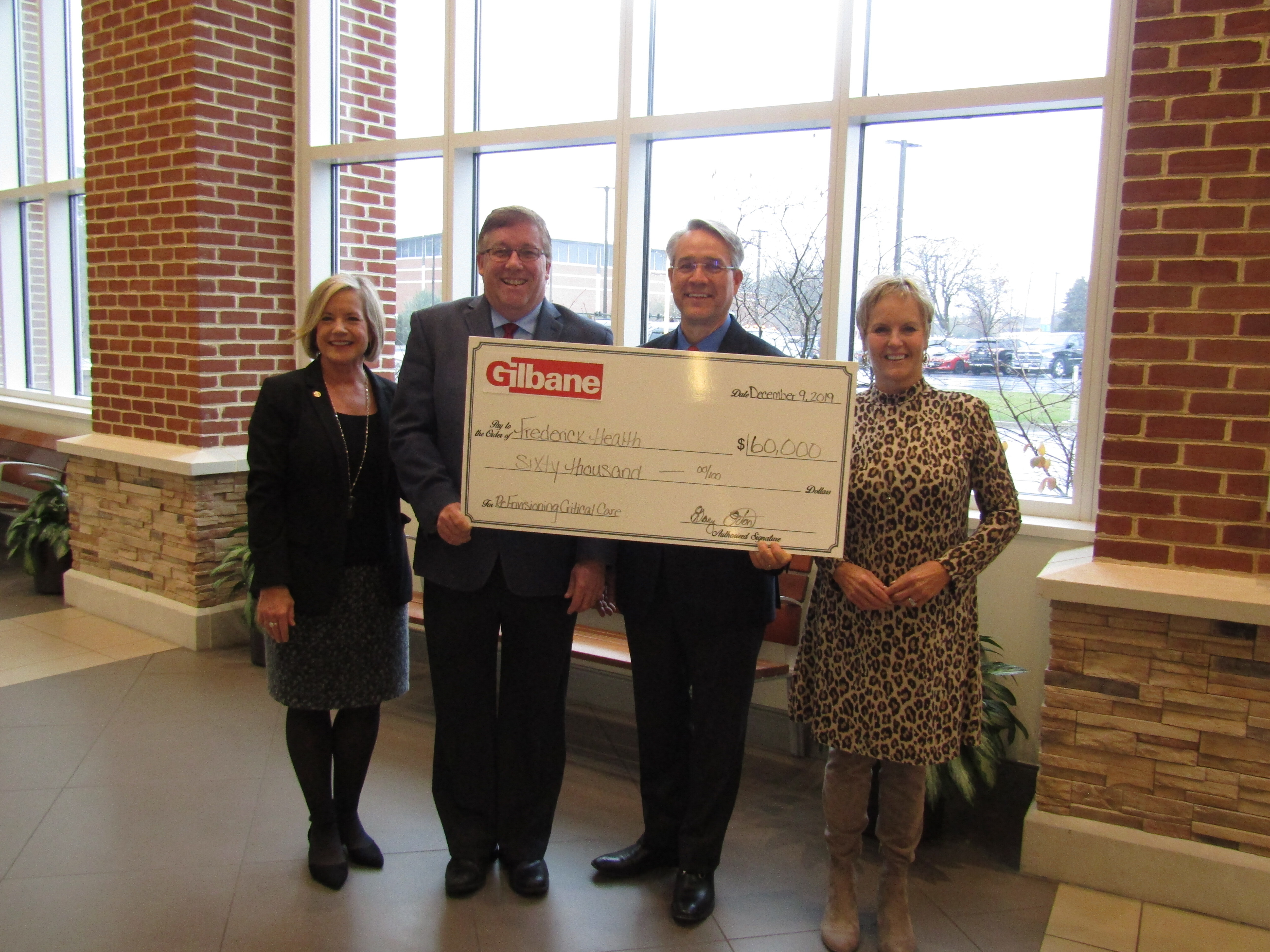 Check Presentation, featured from left to right: Frederick Health V.P. & Chief Development Officer Robin Rose, Gilbane Building Company V.P., Director of Healthcare Mid Atlantic Gary Orton, Frederick Health President & CEO Tom Kleinhanzl, and Frederick Health Development Council Chair Karlys Kline
--------------------------
FREDERICK, MD – Recently, Gilbane Building Company increased their commitment to the Frederick Health Corporate Honor Roll with a pledge of $60,000 to the ReEnvisioning Critical Care Campaign to support the renovation and expansion of the hospital's critical care services.
"Many of the Gilbane family of employees, clients, trade contractors and vendors turn to Frederick Health when they are experiencing a medical emergency. We are proud to support this project which will enable the hospital to continue to meet the critical healthcare needs of Frederick's growing population," said Vice President, Director of Healthcare Mid Atlantic for Gilbane Building Company Gary Orton.
"Gilbane has been a member of the Corporate Honor Roll since 2011. We applaud them for their continued commitment to Frederick Health and their recognition that charitable support is key to the hospital's ability to change and grow to meet the healthcare needs of our community," stated President & CEO Frederick Health Tom Kleinhanzl.
The Frederick Health Corporate Honor Roll was established 30 years ago to provide financial support for Frederick Health's strategic capital goals; the Corporate Honor Roll roster includes a diverse group of more than 90 local businesses, organizations and foundations dedicated to helping the hospital fulfill its commitment to serving the healthcare needs of our community.