Battelle National Biodefense Institute Donates $20,000 to Frederick Health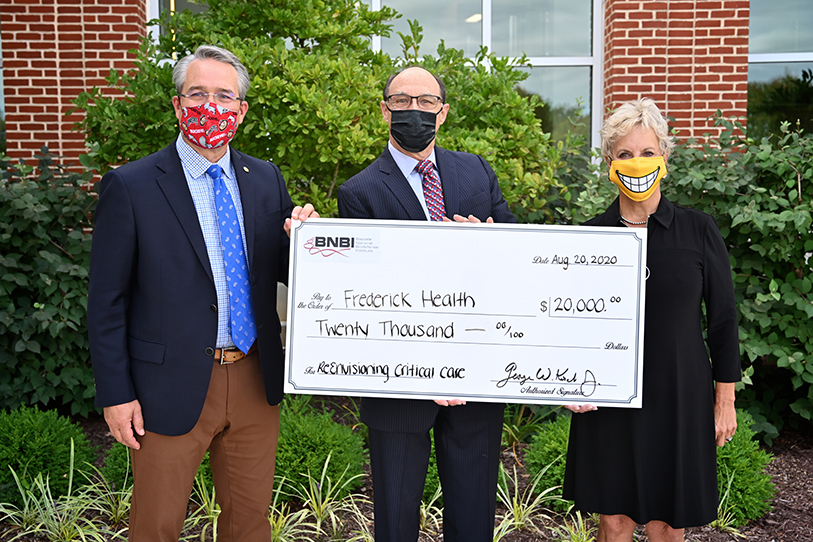 Pictured Left to Right: Frederick Health President & CEO Tom Kleinhanzl; Battelle National Biodefense Institute President George Korch; and Frederick Health Development Council Chair Karlys Kline.​
-----------------------------
DATE: August 27, 2020
For Immediate Release
FREDERICK, MD – Battelle National Biodefense Institute (BNBI) has made a $20,000 gift to Frederick Health's ReEnvisioning Critical Care Campaign. The funds will support a $45.8 million capital project to renovate and expand the hospital's Emergency Department, Intensive Care Unit, and Interventional Cardiology Services. By virtue of this gift, BNBI joins the Frederick Health Corporate Honor Roll.
"The Battelle National Biodefense Institute is honored to be able to make a contribution toward the continuation of a long legacy of outstanding regional health care by its partner Frederick Health. We consider health, well-being and education to be a cornerstone of a vibrant and resilient community and look forward to many more successful years of Frederick Health's support for this region's needs," said George Korch, President, Battelle National Biodefense Institute.
"The Frederick community has greatly benefitted from BNBI's culture of philanthropy over the years. We are honored that they have chosen to provide charitable support to this important project that will allow the hospital to better meet the urgent medical needs of Frederick's growing and maturing population," stated Tom Kleinhanzl, President & CEO, Frederick Health.
The Frederick Health Corporate Honor Roll was established 30 years ago to provide financial support for Frederick Health's strategic capital goals. The Corporate Honor Roll roster includes a diverse group of nearly 90 local businesses, organizations, and foundations dedicated to helping the hospital fulfill its mission to positively impact the well-being of every individual in our community.
# # #