Frederick Health Achieves Magnet® Recognition from the American Nurses Credentialing Center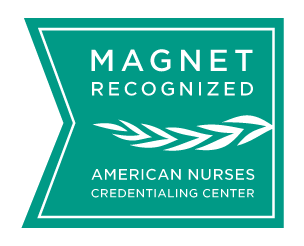 Frederick Health has received one of the top honors a hospital can achieve from the American Nurses Credentialing Center (ANCC). Magnet® recognition is the gold standard of nursing excellence, positive practice environments, and high-quality patient care. Nine percent of hospitals worldwide receive Magnet® designation and this is Frederick Health's first time receiving this outcomes-driven credential.
Frederick Health received Magnet® status because:
Patients and their families are at the forefront of care.
Patients experience fewer complications, lower mortality rates, and higher satisfaction scores.
Nurses identify Frederick Health as a supportive work environment.
Nurses are empowered, and leadership is visible and accessible.
Nursing practices are based on evidence, and nurses advance professionally.
"It is a true honor to earn this prestigious designation as a reflection of the high quality care provided by our hospital and health system," says Cheryl Cioffi, DNP, RN, ANP-BC, NEA-BC, FACHE, Senior Vice President, Chief Operating Officer, and Chief Nursing Officer of Frederick Health. "This has been a rigorous and lengthy process and we could not be more proud of our nursing staff and our entire team's hard work and dedication".
Frederick Health submitted more than 3,500 pages of supportive evidence to the ANCC describing their nursing practices and positive patient outcomes. They described how nurses identify and improve processes, contribute to addressing the organization's strategic priorities, are involved in the design and implementation of technology to enhance the patient experience, and participate to improve workflows and the work environment. The ANCC was especially impressed with how collaboratively all departments work together to achieve the health system's mission.
"It takes teamwork across many different disciplines to receive Magnet® recognition." says Tom Kleinhanzl, Frederick Health President & CEO. "This is a culmination of years of hard work within our organization. Magnet® recognition speaks to our high standards and dedication to our mission to positively impact the well-being of every individual in our community. This is a nursing honor, and an honor for all of us, and we're very proud of this accomplishment."
"This designation is a celebration and validation of the amazing work our nurses do every day," says Jamie White, PhD, RN, NEA-BC, Vice President of Quality Assurance and Patient Experience at Frederick Health. "It is a symbol that says Frederick Health is an organization that always functions at a high level, strives to provide the best care possible, and supports staff to have the best possible work environment to be outstanding."
Denise Owen, MSN, RN, NPD-BC, Clinical Specialist, Nursing Quality & Magnet® Recognition at Frederick Health, says, "Our nurses keep the patients and their families at the center of their daily care. We want to support a workforce that feels hopeful, confident, and safe. Joy in work is an essential resource for the practice of nursing."
Members of Frederick Health's Board of Directors were present for the announcement and echoed that this recognition confirms what many already knew, that Frederick Health has an excellent team of nurses throughout the health system.
With this recognition, Frederick Health also received three exemplars from the ANCC related to Central Line Acquired Bloodstream Infection (CLABSI), Extravasation Rates, and the collaborative work of the Chronic Care Management Home Care nurses and Care Clinic nurses.
Standards for this designation increase every four years when organizations seek renewal of their Magnet® status. To maintain this designation, Frederick Health will need to show improvements such as increasing the percentage of nurses with advanced degrees, having additional research studies, and increasing quality patient outcomes and satisfaction.
Diane McFarland, DNP, RN, NEA-BC, Vice President of Patient Care Services at Frederick Health, says, "Magnet® represents the highest quality outcomes and a supportive work environment that allows nurses and the entire healthcare team to provide exemplary patient care. We are up to the challenge of continuing to raise the bar to improve care for this community."