Bridges Program
The Bridges Program is a new and innovative community outreach program that has been created to build partnerships between the Frederick medical, religious, and neighborhood communities. The ultimate goal of the program is to provide timely and easy-to- understand health education materials and tools to a wide population of people that can assist them on their journey to improve their family's health and wellness status.
Bridges is one component of Frederick Health's broader population health strategy and looks for opportunities to incorporate a health and wellness strategy into the regular routines and rhythms of a shared community, such as a church, synagogue, or community association. The initial launch focused on the faith based communities of Frederick County because of its size and diversity, but the program is now open to many groups who wish to incorporate a health strategy into their plan of action.
Background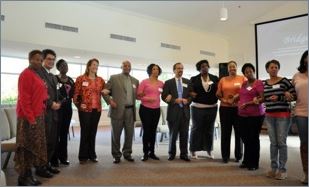 In 2012, Frederick Health hosted a series of focus groups which represented a diverse cross section of the community. Those participating members of these groups noted that some in their community were wary or distrustful because of historical distrust and perceived inequities in the healthcare system. Participants also stated that they wanted to see more of the hospital's representatives out in their communities, investing in programs to help them tackle healthcare disparities, preventable deaths, and higher rates of chronic disease. As the major provider of health services in Frederick County, Frederick Health had to consider new and innovative ways to get into the places where people live, work and gather.
The program focuses on developing a network of Lay Health Educators who serve as facilitators and advocates within their own faith community. To provide guidance and framework, planners looked to a Baltimore program called "Healthy Community Partnerships" at Johns Hopkins Bayview Medical Center. Focused on building relationships with the local faith based and community resources, the successful Baltimore program features a series of mini-courses on health behaviors and conditions that drive high utilization of health resources and the increase in chronic illness and premature death. Added into the series were important consumer topics such as "Advanced Directives", and "Communicating with Your Doctor."
The Implementation of the Program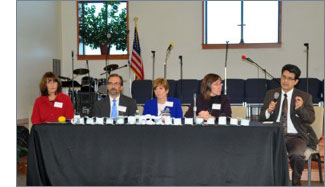 There are four subcommittees involved in the program's implementation and success. The first, the Steering Committee, creates the business plan and works with the Health System leadership to make sure that the program goals are in sync with organizational strategies and the rapidly changing healthcare environment. The Lay Health Educator Program is just one tactic used to meet Frederick Health's population health goals and establish effective communications with the communities served.
The next group, the Community Advisory Partnership, plays a critical role in protecting the mission of the program and ensuring its long term sustainability. Composed of local faith leaders, community leaders, and graduates of the Lay Health Educator program,, and a permanent core of hospital staff members. This group is consulted on effective ways to reach underserved populations, communities that encounter significant barriers to access and information, and people who may be at high risk for chronic illness and disease. As a convenience, meetings are typically held in conjunction with the course evaluation and graduation of each cohort.
The Curriculum Committee creates and updates all of the Bridges instructional materials and supplemental resources. The Bridges curriculum is selected based on current health needs that have been identified through the analysis of recent health statistics, emerging needs, and basic health, wellness, and proven prevention. Experienced health professionals, physicians, health educators, community advocates, case managers and R.N.'s create flexible, user friendly course materials that can be adapted for a wide range of audiences with different perceptions of health, illness and disease, birth and death, the role of family, and the role of faith.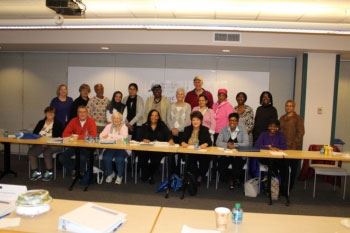 The Lay Health Educators are the heartbeat of the program. LHE's learn to break common health terminology about prevention, chronic illness and disease into small, easy to understand chunks of information. The 10-week, 30 hour course is just the beginning of learning as they share local experiences and knowledge to overcome common fears, misperceptions and stereotypes. The volunteers then return to their communities with high quality tools and resources to help people get the right care, in the right place, at the right time. They work with individuals and groups to identify changes that are necessary to reduce their risk for disease, address social determinants of health, and often collaborate with Frederick Health to bring health activities and screenings to remote areas, rural communities, and areas where there are high rates of preventable disease, utilization and premature death.
The ultimate success of the program rests on the strength of networking and partnership. While some have experience as Parish Nurses or serve in health ministries, prior health experience is not required. All that is required is that someone has the passion, commitment and skill to communicate basic health facts and prevention practices to others. Some will present to groups and others will work one on one. These qualities make a great Lay Health Educator (LHE).
Get Involved
Two cohorts are conducted each Spring and Fall with a maximum of 15 people per session. Classes meet one weeknight a week for 10 weeks, for a total of 30 hours. After graduation, all LHE's are invited back to network, share experiences, exchange new facts and test their skills. Many choose to become involved in Health Fairs, educational seminars, joint projects, and focus groups.
To enroll in the program, an application and interview are required and in most cases, an organizational sponsor must be identified through which the Lay Health Educator will perform the outreach function. In some cases, we can identify a suitable match for someone with the willingness and desire to work as part of the Bridges LHE team. The course is free to all participants and includes all meals, materials, and reproducible course materials as well as additional handouts, reference tools and publications that are provided by the course instructors.
Contact Us