Magnet® Recognized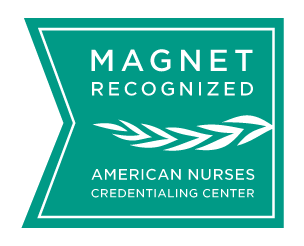 On Monday September 14, 2020, the American Nurses Credentialing Center (ANCC) notified Frederick Health of our first Magnet® designation! Magnet Program Recognition® is considered the highest and most prestigious distinction a health care organization can achieve for nursing practice and quality patient care. The Magnet® award recognizes and validates excellence in nursing both for the quality of care and the support for the health of their community. This designation provides patients with a benchmark for the quality of care they can expect.
We began this journey to Magnet® many years ago and effectively implemented the Magnet® components as part of our nursing framework and collaborative culture. Since last year, a team submitted nearly 3,500 pages of narratives and supporting documentation to meet and exceed application requirements and hosted a successful virtual site visit from a team of Magnet® Appraisers. During the site visit, the Appraiser team complemented Frederick Health on our collaborative relationships between nursing and providers, ancillary services, and all members of the healthcare team. They remarked that Emma Smith would be proud and felt our vision of superb service throughout their many unit tours and interview sessions. We were fortunate to have the support from the community, Board, Senior Leadership, and an amazing team of nursing leadership and energetic Magnet® Ambassadors to continually support this journey.
ANCC hosted this notification call in conjunction with our staff from across the organization and board representatives. Additionally, the Commission on Magnet® (COM) recognized our organization with three exemplars during the call. Exemplars are examples of best practices determined by the COM and further demonstrates how Frederick Health excels in the areas of Extravasations, Central Line Associated Blood Stream Infections, and Telehealth from the Chronic Care Management Program.
Frederick Health now has the distinction of being one of only 9 acute care hospitals in the state of Maryland, placing our organization in the top 9% of 6,000 hospitals nationwide. Thanks to your extraordinary efforts for patient care and our collaborative team environment, we were able to receive this validation recognizing our on-going commitment to excellence.
The Magnet® designation is granted every four years to only those organizations that demonstrate sustained superiority in nursing care. We are resolved to deliver the highest level of care and will be looking for examples of collaboration, innovation, and outcome focused stories to bring forward in the next application cycle.
Higher patient satisfaction
Better patient outcomes
Increased nurse satisfaction
Improved safety and quality
Congratulations to our team for achieving Magnet® recognition!