Construction
Frederick Health Hospital to Renovate & Expand Critical Care Service Areas
Starting September 21, 2020, Frederick Health is embarking on a four-phase construction project at Frederick Health Hospital (400 W 7th Street). Construction will begin in late September 2020 to renovate and expand critical care service areas. The Critical Care Project will require changes to traffic patterns accessing the hospital from 7th Street through April 2022.
Beginning November 1, 2020, construction signage will instruct patients and visitors to access the Emergency Department (ED) from Park Place instead of Toll House Avenue. All other patients and visitors will access the hospital from Emma Smith Way. Garage parking is encouraged as the construction will restrict the amount of surface parking available.
For more information, contact us at 240-566-3300.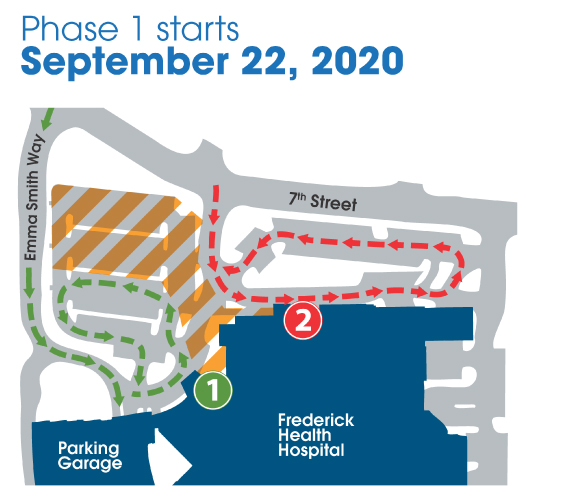 Construction fencing goes up, and public traffic to the Emergency Department will use the main driveway opposite Toll House Ave to access Entrance 2.
Hospital visitors and surgical patients will use Emma Smith Way to access Entrance 1.
Signage and Traffic Control Staff will be on site to assist patients and visitors.
Both entrances will remain open and fully operational.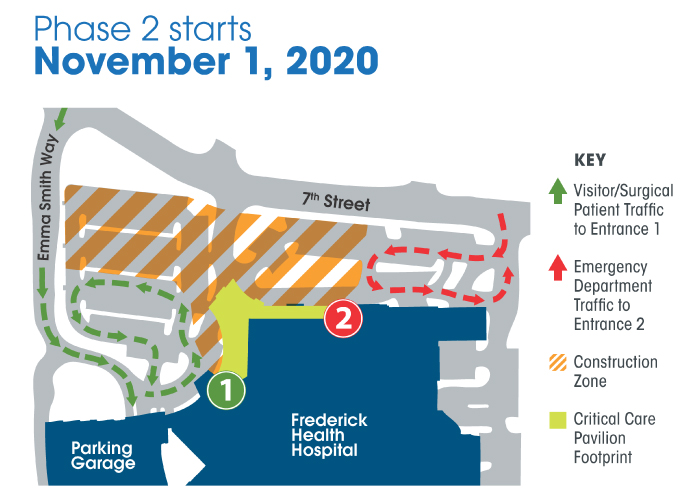 Construction fencing will extend to a larger area.
Emergency Department traffic will access Entrance 2 from the driveway next to Hospital Park. Visitors and surgical patients will continue to access Entrance 1 via Emma Smith Way.
Maple Ave between Trail Ave and the driveway next to Hospital Park will close.
Updated signage and Trac Control Sta will be on site to assist patients and visitors.
Both entrances will remain open and fully operational.
About the Critical Care Project
Providing critical care when and where it matters most is of the utmost importance to Frederick Health. Out of 47 hospitals in the state of Maryland, the ED at Frederick Health Hospital is the seventh busiest. And Frederick County is the fastest-growing county in Maryland, with significant growth in those over age 65.
"The planned changes will help prepare the hospital to meet our community's growth and changing needs," said Cheryl Cioffi, DNP, RN, ANP-BC, FACHE, Senior Vice President, Chief Operating Officer and Chief Nursing Officer. "When you or a loved one experience a medical emergency, we want to make sure you have access to the critical care services you need, right here in Frederick."
The Critical Care Project will involve three floors in one wing of the hospital, where the ED is currently located. It includes the following three components:
Completion of redesign and expansion of the Emergency Department
Renovation and expansion of the Intensive Care Unit
Enhancing Interventional Cardiology services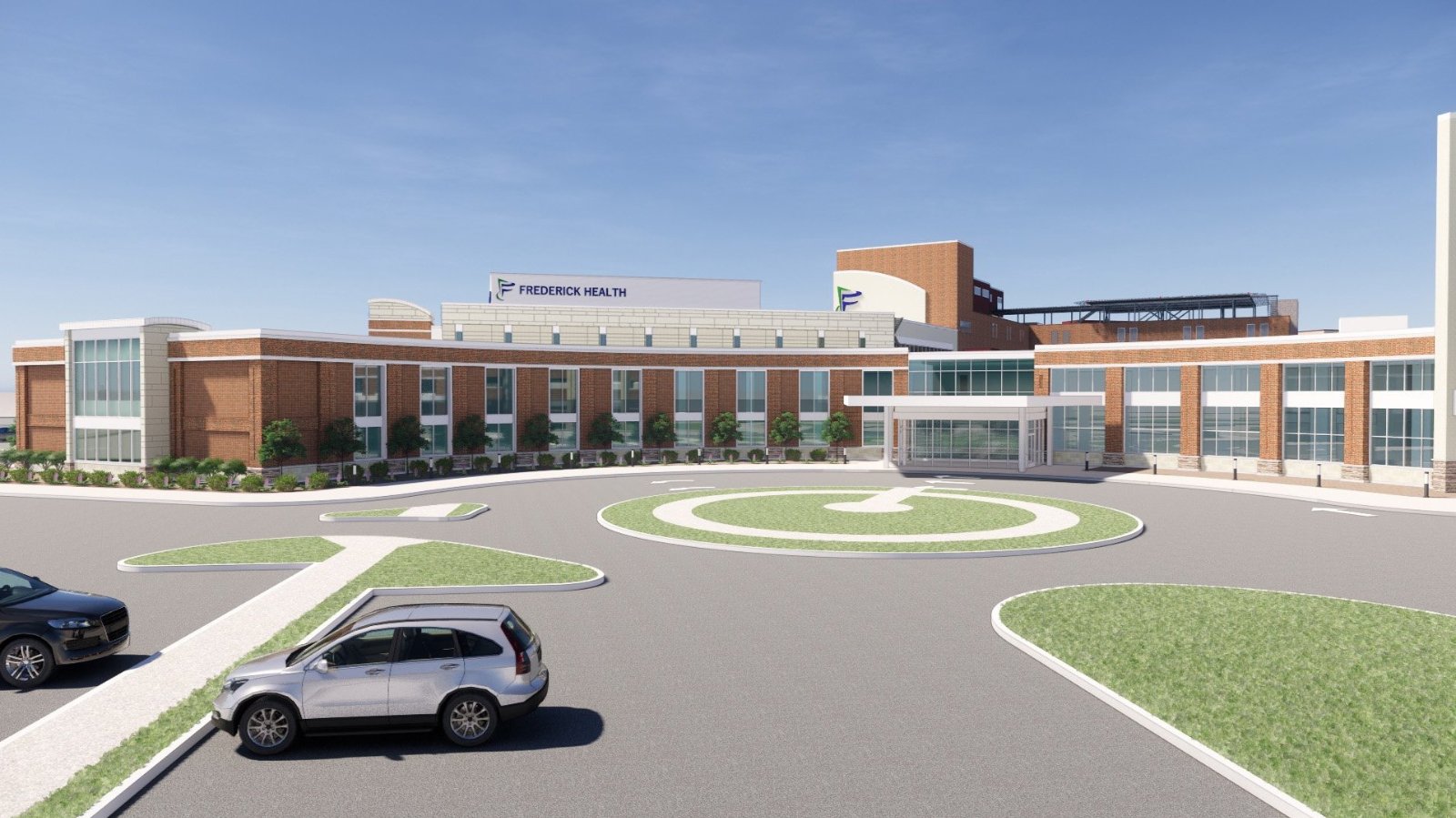 Rendering of Frederick Health Hospital following the completion of the
Critical Care Project.