The DAISY Award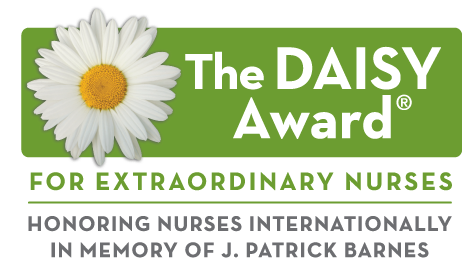 Frederick Health is pleased to announce its participation with the DAISY Foundation in presenting the internationally recognized DAISY Award.
Created in 1999, this award is given to direct care nurses to acknowledge their extraordinary and compassionate care to their patients. Currently, 4,800 healthcare facilities in 29 countries participate in the program.
"Frederick Health is proud to be among the hospital systems participating in the DAISY Award program."
- Jamie White, Chief Nursing Officer
Nomination Details
Frederick Health direct care nurses can be nominated by patients, families, or colleagues. This includes nurses delivering care at any of our locations, including Frederick Health Hospital, Frederick Health Medical Group provider offices, Frederick Health Home Care, and Frederick Health Hospice. To receive the award, nominees are reviewed by a committee of their peers. The very first DAISY Award winners will be announced later this year and each honoree will receive a certificate commending them as an "Extraordinary Nurse" along with a special DAISY pin and a hand-carved Healing Touch sculpture.
Nomination Form
To nominate a direct care nurse, please complete the form below: